Details:

BCCT MULTI-CHAMBER LEGAL EVENING PRESENTATION - RECENT CHANGES TO EMPLOYMENT LAW

Khun Pramote Srisamai, an expert with nearly 30 years' experience advising clients on all aspects of employment law and has headed Price Sanond's Employment and Labour Department for over twenty years, will share his insight on the recent changes to the Labour Protection Act, and other changes to employment law that have taken place over the past 12 months. Khun Pramote's detailed cv can be found here

Event details:

Date: Tuesday 3rd March

Time: 6.30 – 8.30 pm

Venue: Pinnacle 4 room, 4th Floor, InterContinental Bangkok (BTS Chidlom exit 6)

Cost: 1,000 Baht to BCCT members and members of other Chambers of Commerce in Thailand /1,500 Baht to non-members including food & drinks. Pre-payment for the full fee is required by 5.00 pm on Monday 2nd March. Click here for payment methods.


Agenda:
6.30 - 7.00 pm Registration and Networking

7.00 - 8.00 pm Presentation

8.00 - 8.30 pm Q&A

8.30 pm Close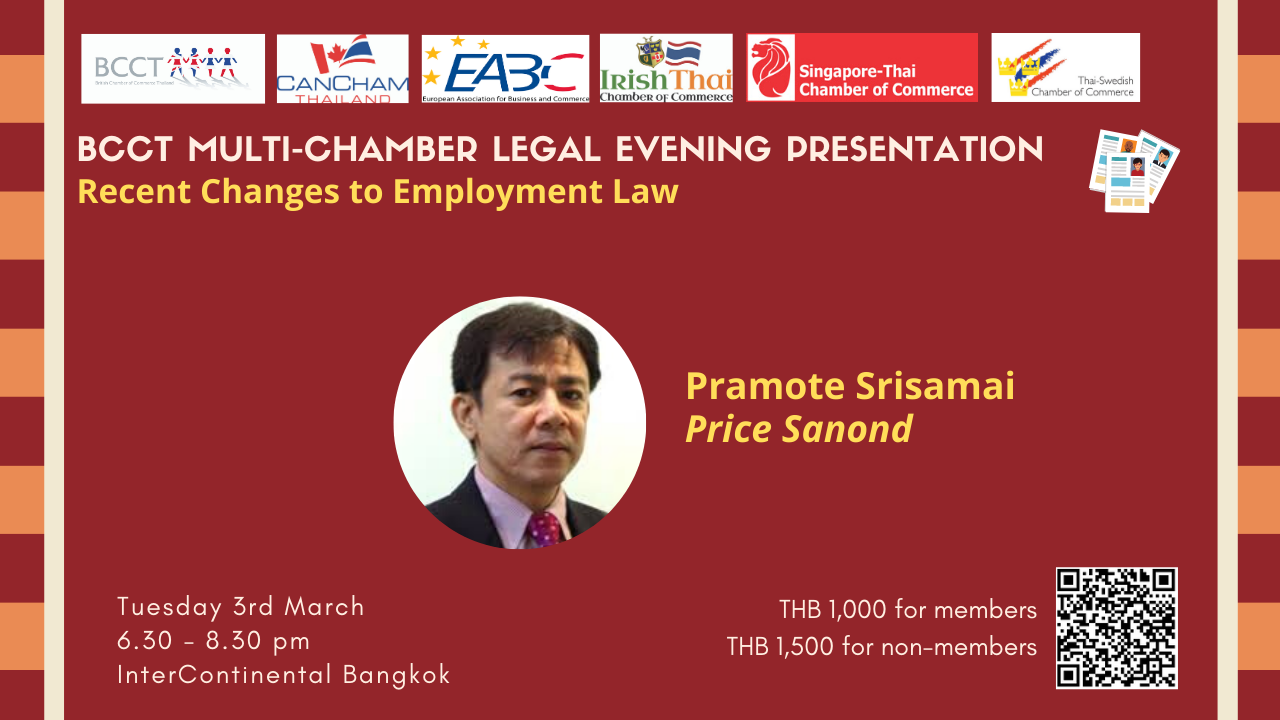 Food & Drinks Menu:
Cold: Spicy banana blossom salad with chicken, Potato and poached salmon salad with mustard dressing, Chicken, cheese, tomato sandwich, Soft bun, cream cheese and smoked salmon, and Caesar Salad
Hot: Chicken samosa, Ham and Mushroom voul au vent, Vegetable spring roll, Teriyaki chicken with sesame, Pad Thai Gung (Sautéed Noodle Thai Style with Prawns), and Penne, mushroom cream sauce
Carvery: Oven baked Fish Sea bass wrap in puff pastry filled with spinach
Desserts: Assorted Fruit Platter, Cheese cake, and Chocolate cake
Beverages: Soft drinks, Vineyards Shiraz & Chardonnay, Heineken Lager Beer
IMPORTANT NOTICE: On 23 February, the Thai Ministry of Education under advisement from the Ministry of Public Health issued a letter asking for the quarantine of all persons returning to Thailand from visits to mainland China, Hong Kong, Macau, Taiwan, South Korea, Singapore, Japan, Vietnam, Malaysia, Italy and Iran. This will be extended to all those who have come into contact with someone who has returned to Thailand from these countries.
Accordingly, we must ask that any person who intends to travel to those countries within a period of 14 days prior to the event date to PLEASE DO NOT ATTEND this event.
BCCT regrets having to impose this requirement, in the interests of safeguarding the health of all who attend this event.
Should there be any further announcements from the Ministry of Health, they will be emailed to all to whom this event flyer has been sent.