Details:

BCCT/AMCHAM EVENING PRESENTATION ON EEC

BCCT in collaboration with AMCHAM cordially invites you to the Evening Presentation on EEC.

Event details:

Date: Thursday 27th February 2020

Time: 6.00 - 8.00 pm

Venue: Sheraton Grande Sukhumvit (BTS Asoke exit 5 or MRT Sukhumvit exit 3)

Topic: "Investment in EEC update, Thailand performance with trade wars and Investment implications".

Speaker: David Nardone, Group Executive Industrial and International, WHA Industrial Development

Cost: THB 1,200 for members and THB 1,700 for non-members including food, soft drinks, beer and wine.
Advance payment is required by 12.00 pm on Wednesday 26th February. Click HERE for payment methods.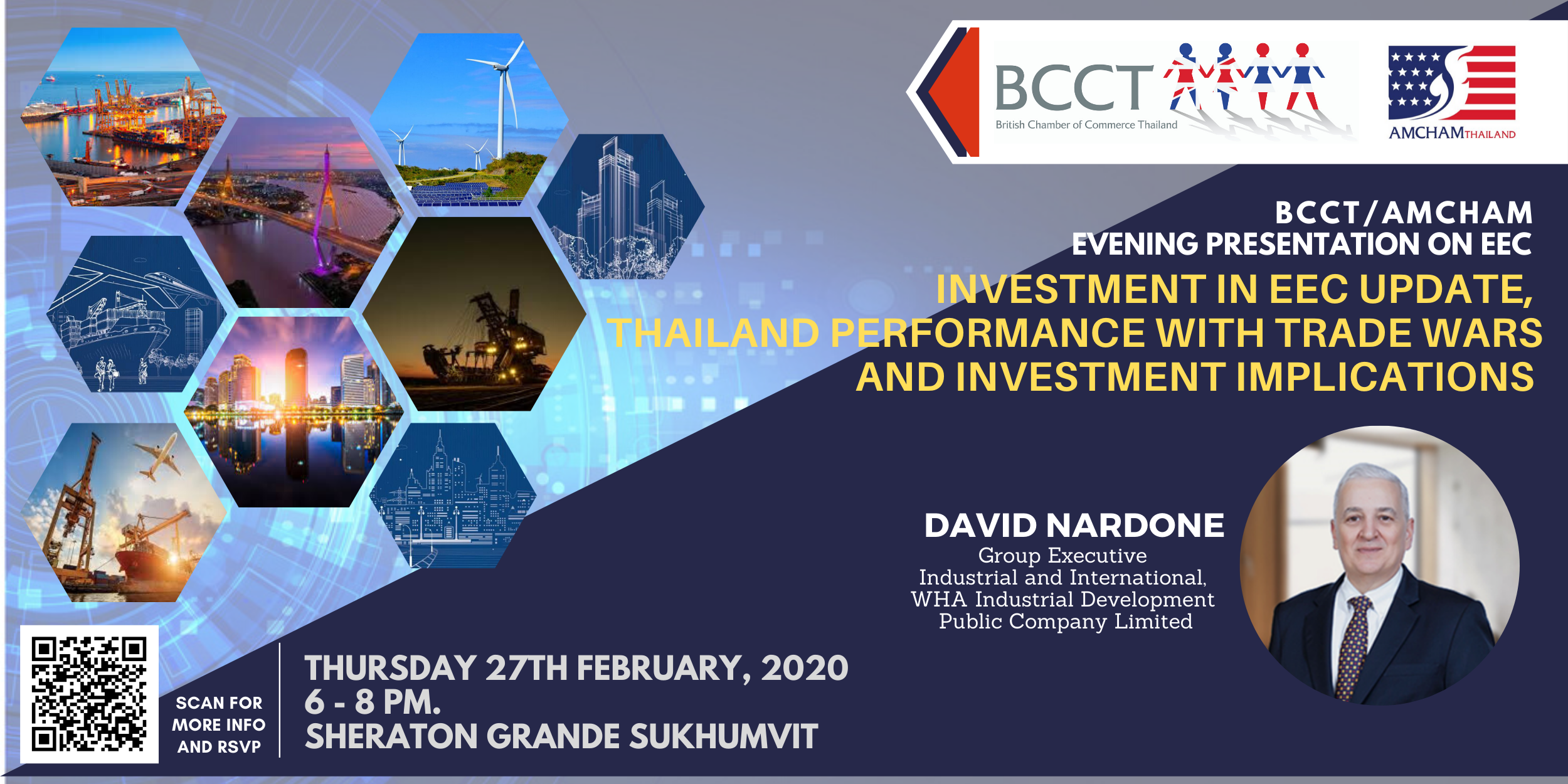 About speaker:

David Nardone is Vice Chairman of the Board of Directors, Executive Director at WHA Corporation Public Company Limited. He is Group Executive Industrial and International, Executive Director at WHA Industrial Development Public Company Limited (previously Hemaraj Land).
David joined Hemaraj Land And Development Public Company Limited in 1993 and was President and Chief Executive Officer from 1998 to March 2016 until Hemaraj delisted from the Stock Exchange of Thailand. On April 20, 2015 Hemaraj was acquired by WHA Corporation in a voluntary tender acquisition.
WHA Industrial Development Public Company Limited with assets of $1.49 billion is Thailand's leading developer of industrial estates, factories, property solutions and through its subsidiary WHA UP also utilities and power. Industrial customers include 1,209 land or factory contracts, 875,000 square meters of ready built factories and logistics parks, 42 power projects of 2,608 megawatts with a 22.19% shareholding, and 402 automotive contracts including Ford, Mazda, GM, Suzuki, MG, and Continental. Industrial customer investment estimate is USD $32.7 billion at 11 industrial estates of 48,913 rai, 7,826 hectares or 19,565 acres in Thailand. A new industrial estate WHA Industrial Zone - Nghe An, Vietnam has 498 hectares under development.
From 1980 to 1993, David held senior financial and manufacturing management positions in the computer industry residing in U.S.A., Thailand, and Hong Kong.
David completed a BSBA in Finance and Entrepreneurship and a MBA at McKim D'Amore School of Business at Northeastern University in Boston, Ma. U.S.A. His activities today at Northeastern University include Alumni Leader Program and as an Advisor to the Center for Emerging Markets (CEM) at the McKim D'Amore School of Business. David contributes to economic forums and articles on automotive, industrial, investment and competitiveness.
David contributes as a Governor at AMCHAM for 15 years and serves in 2020 as Board of Governors. He established the AMCHAM Corporate Partner program. His involvement includes the Automotive Council of which he was a co-founder, various chamber and government advocacy issues, and as board liaison for the Trade and Investment Committee.
Food & Drinks Menu
HorsD'oeuvres: Larb Gai, Spicy minced chicken salad with rice powder/Yum Som O, Siamese pomelo salad, coconut flak/Spicy tom yum gazpacho, prawn shooters and Freshly shaved prosciutto, rockmelon
Carving: Roasted honey glazed ham/Apple sauce, grain mustard, roasted vegetable and selection of freshly baked European breads
Hot Temptations: Chicken wrapped bacon skewer, teriyaki sauce/ Kjøttboller Norwegian meatballs, mashed potato/French fries/Beer beef stew, sauté cabbage/Chicken satay, peanut sauce, cucumber salsa/ Deep-fried Vietnamese shrimp balls on sugarcane, sweet plum sauce/Roasted duck red curry, tomato, eggplant, pineapple and Steamed jasmine rice
Beverages: Soft Drinks; Heineken Lager Beer; Vineyards Wine, South Eastern Australia Shiraz & Chardonnay
IMPORTANT NOTICE: On 23 February, the Thai Ministry of Education under advisement from the Ministry of Public Health issued a letter asking for the quarantine of all persons returning to Thailand from visits to mainland China, Hong Kong, Macau, Taiwan, South Korea, Singapore, Japan, Vietnam, Malaysia, Italy and Iran. This will be extended to all those who have come into contact with someone who has returned to Thailand from these countries.
Accordingly, we must ask that any person who intends to travel to those countries within a period of 14 days prior to the event date to PLEASE NOT ATTEND this event.
BCCT regrets having to impose this requirement, in the interests of safeguarding the health of all who attend this event.
Should there be any further announcements from the Ministry of Health, they will be emailed to all to whom this event flyer has been sent.