Details:

BCCT EVENING PANEL DISCUSSION - SOLAR ROOFTOPS: GETTING IT DONE

Large-scale growth of solar rooftops in Thailand is now starting, after a decade of explosive growth in solar farms. Many big Thai corporate names have already announced solar rooftop investments. Capital costs have declined to a level which makes solar rooftops of any size economically attractive, and the use of clean energy is increasingly imposed by large customers as a condition of business. The Thai government has announced a radical expansion in the share of solar rooftop generation in total electricity generation.

The focus of the discussion will be on practical issues affecting companies and individuals who are interested in installing solar panels on their roofs, and who want information on how to get it done, and on costs, benefits and any risks. Companies interested in providing services to that market may also benefit.

Issues treated will include: options for installation, lead-times, availability and feasibility of battery storage for night-time, costs, payback, quality/reliability, guarantees, O&M issues, the contracts likely to apply.

***ADDITIONAL PANEL MEMBER***

For the Q&A panel discussion, the speakers will be joined by Andrew Gordon, Business Director at Bangkok Patana School, who has supervised the contracts and implementation of an investment by Patana of over $1 million in solar rooftops, which now supply 25% of the school's total electricity needs.

Event details:

Date: Tuesday 25th February

Time: 6.30 – 8.30 pm

Venue: Oriental Residence Bangkok on Wireless Road (BTS Ploenchit exit 2)

Cost: THB 1,000 for members and THB 1,500 for non-members including food, soft drinks, beer and wine.

Pre-payment: is required by 12.00 pm on Monday 24th February. Click here for payment methods.


Agenda:
6.30 - 7.00 pm Registration & Networking
7.00 - 8.00 pm Panel discussion & Presentation
8.00 - 8.30 pm Q&A
8.30 pm Close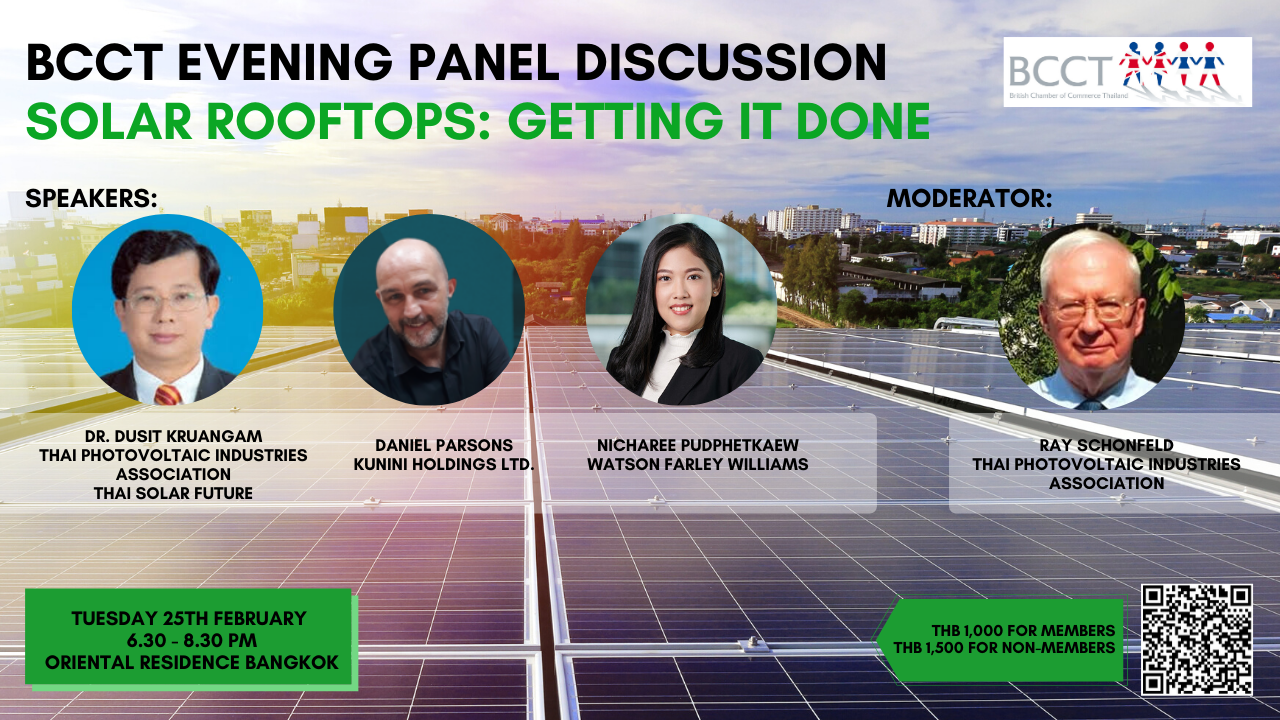 More about the speakers:

Dr. Dusit Kruangam, Chairman of Thai Photovoltaic Industries Association and Chairman of Thai Solar Future, an installation company. His company was founded at the start of the Thai solar energy boom a decade ago, and has built both solar farms and solar rooftops.
Daniel Parsons, Chief Operating Officer of Kunini Holdings Ltd. Kunini was founded around 20 years ago as a full-range contractor for electrical installations in buildings, from which it diversified into commercial and private solar rooftops.
Nicharee Pudphetkaew, Senior Associate in the corporate and commercial law practice area of Watson Farley Williams in Bangkok. A law graduate of Chulalongkorn University, her experience includes project finance, property, and renewable energy.
Moderator:
Ray Schonfeld has worked as international advisor to Thai Photovoltaic Industries Association since its foundation, and has led three previous BCCT workshops on solar energy. His work has included programmes to facilitate third-party investment in solar rooftops, self-contained mini-grids on housing estates, and a national skills development programme in solar energy.
Menu:
Food:
Deep fried Spinach cheese spring roll (V)

Baked beef ball with cheese

Pork sausage rolls in puff pastry

Mushroom and truffle quiche

Chicken slider burger

Fish finger with tartare sauce

BBQ Chicken lollipops with mango mayonnaise

Curried prawn salad with pineapple and sesame seed
Drinks: Soft drinks, Vineyards Shiraz, Vineyards Chardonnay, and Heineken Beer