Details:

BCCT HALF-DAY WORKSHOP - CREATE 2020 BUSINESS PLANS THAT ENSURE ALIGNMENT, ACCOUNTABILITY & RESULTS

Start the Year with Focus and Clarity

Having a plan is no longer optional when business is getting more complex, competition is fierce, time is of the essence and with no room for big mistakes.

2020 is here and many BCCT members will have already written their business plans and communicated them to their teams to make sure that everyone is on the same page.

This presentation will include a short online demonstration of the OnePagePlan system that acts as a catalyst for building and managing a business.

An interactive workshop will use templates that are simple and concise to use and can capture in writing what is in your head to help you create and take away your own draft plan/blueprint. This workshop is conducted in English.

Speaker: Howard Bryant, Certified OnePagePlan Consultant, Retail Asia

Event details: Friday 31st January from 10 am–12 noon at The Sukhothai Bangkok (MRT Lumpini exit 2)

Cost: THB 1,000 for members and THB 1,500 for non-members including coffee break. To reserve your seat, please click HERE or email banthita@bccthai.com. Pre-payment for the full fee is required by 5.00 pm on Friday 24th January. Click here for payment methods.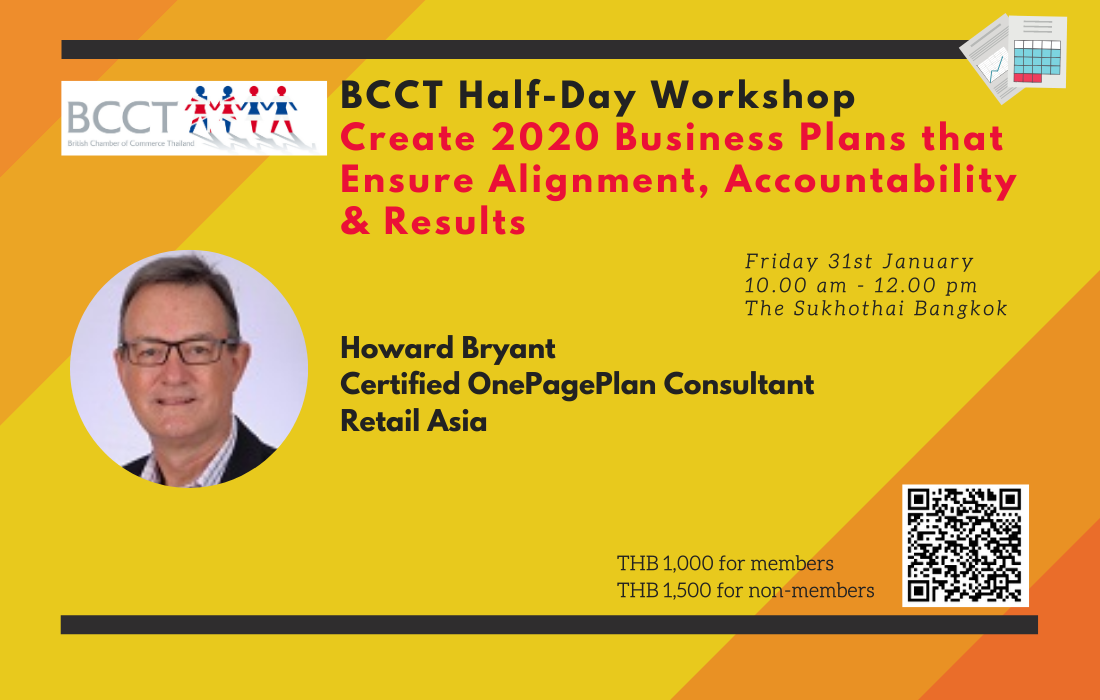 More about the workshop:
Critical Questions:
Are you satisfied with your sales growth and profitability?

Can you articulate where you are taking your business or organization?

Are your employees, partners and investors on the same path?

Is your business or organization producing the results you need?

What behaviours need to change to achieve your goals?
Agenda:
Vision - What are you building?

Mission - Why does this business exist?

Objectives - What results will you measure?

Strategy - How will you build your company?

Plans - What is the work we need to do?
Key Objectives:
Crystallize your thinking

Visualise your ideas in writing

Grow sales & profits

Help others to understand what you are trying to do

Better use your business resources

Keep staff focused on doing the right things

Make better managers of your employees
Who should attend:
CEO's, VPs, Business Unit Heads, Division Directors, Function & Department Managers, Strategy Planners, Project Managers, Profit Center Managers for the following:
Solopreneurs, Professionals & Small Non‐Profits

Small Business Owners (less than $2 million revenue, with employees)

Mid‐Market Companies or Corporate Divisions (from $2‐20 million in revenue)

Large Companies with Management Team (over $20 million in revenue)
About our Speaker: Howard Bryant is a business veteran who has lived and worked in Thailand for 20+ years. As Managing Director of Retail Asia, he is a trusted advisor, consultant, coach and trainer to many businesses operating in South East Asia.
During that time, he has gained wide experience in writing and delivering business plans, capturing the Vision, focusing on the Mission, setting Objectives, determining Strategies and creating Plans with an always expected outcome of increased sales, reduced costs and higher rates of return.
As a Certified OnePagePlan consultant, Howard will be sharing with BCCT members an innovative approach to business planning using extensive samples, fill-in-the-blank templates, key words and short phrases.