Details:

You are invited to attend

BCCT DIT NORTHERN POWERHOUSE BUSINESS NETWORKING EVENING

BCCT, The department for International Trade North West England and Northern Powerhouse would like to invite to a Business Networking Evening in order to meet representatives of the 20 UK companies visiting Thailand on the Northern Powerhouse mission. This event will take place on Monday 28th October from 6.30 to 8.30 pm at The Landmark Bangkok. Booking details are below.

The mission companies and their activities are listed below. Most are seeking in-country representation or direct access to potential customers. In addition to joining the Business Networking Evening, if you would like to meet any of the company representatives on Tuesday 29th October please email – greg@bccthai.com – as soon as possible.

Date: Monday 28 October 2019

Time: 6.30 - 8.30pm

Venue: The Huntsman Pub, basement floor of The Landmark Hotel (BTS: Nana exit 2). THE HUNSTMAN IS CLOSED TO THE PUBLIC FOR THE DURATION OF THIS EVENT

Cost: This event is free to attend. Food, soft drinks, beer and wine are provided. Spaces are limited. Pre-registration is required. Walk-ins are not accepted.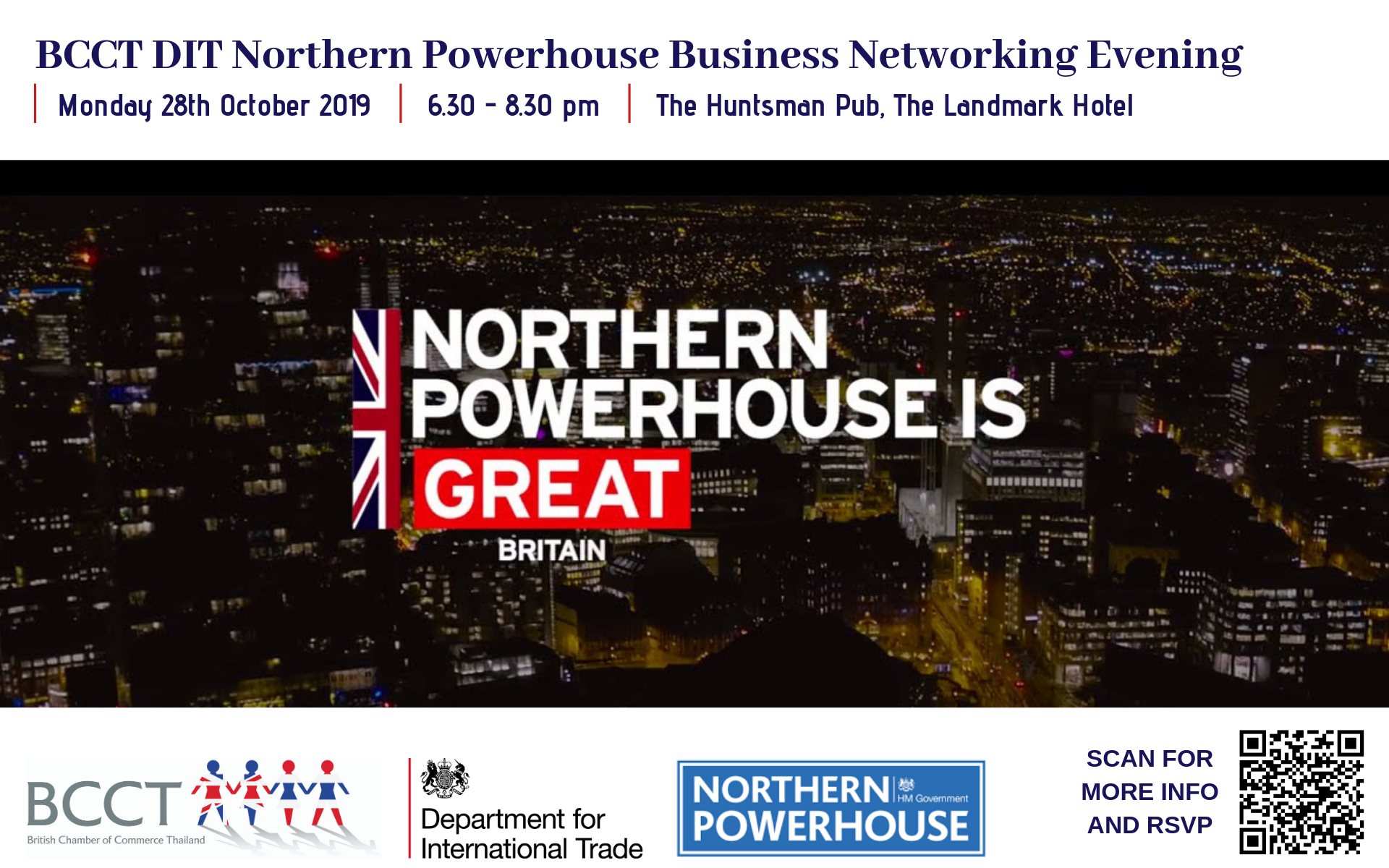 MISSION COMPANIES
0qr.co.uk - digital solutions & immersive content consultancy
Buju Architects - architectural company specializing in design for autism
Capital 4 Training - training courses provider
Cataclean Global Ltd - fuel additives for lowering emissions, bringing down fuel consumption and restoring engines
EMSc (UK) Ltd t/a Powerstar - energy storage and uninterruptible power supply (UPS)
Expo Stars Interactive Ltd - exhibition services company specializing in education, consultancy and attendee engagement programmes
Furniture Clinic - leather cleaning products
Gledus - STEAM (Science, Technology, Engineering, the Arts and Mathematics) coding programmes and camps
Highfield Awarding Body for Compliance Limited - hospitality service training courses
inno4less - information technology consultancy
James Fisher (Shipping Services) Ltd - specialised services to the marine, oil and gas and other high assurance industries worldwide
Lim & Co (UK) Ltd - technical and vocational secondary education
NOCN Group - training and qualification provider
One Awards - training and qualification provider
Orbis Immersive Ltd - information technology consultancy including 3D immersive interactive
Rexor Technology Ltd - aviation technology systems, products and services to support airport & terminal operations, passenger services, security, etc
Sterling Sensors UK Ltd - manufacturer and supplier of bespoke & ex-stock thermocouple, thermistor & RTD sensors
Time2Resources Ltd - provider of conferences, resources and study materials for business, economic and IT examinations
Ucargo Pacific Logistics Ltd - freight forwarding and logistics provider
University of Salford (The School of Arts and Media) - arts and media courses
Willow Green Enterprises Limited - F&B and retail consultancy service