Details:

You are invited to attend the BCCT legal briefing on New Property Tax and Recent Changes in Tax Law.

Picharn Sukparangee is an experienced corporate and tax lawyer. He will deliver a short presentation on the new property tax which will come into effect in January 2020. Then he, Damian Norris and John Casella, who are both experienced advisors in taxation, will discuss other recent changes in taxation. All three speakers will then take questions from the floor.

Event details:

Date: Tuesday 26 November 2019

Time: 6.30 – 8.30 pm

Venue: Rembrandt Hotel & Suites Bangkok, Soi Sukhumvit 18 (BTS Asoke exit 6 / MRT Sukhumvit exit 2)

Cost: THB 1,000 for members and THB 1,500 for non-members including food, soft drinks, beer and wine.

Payment method: Here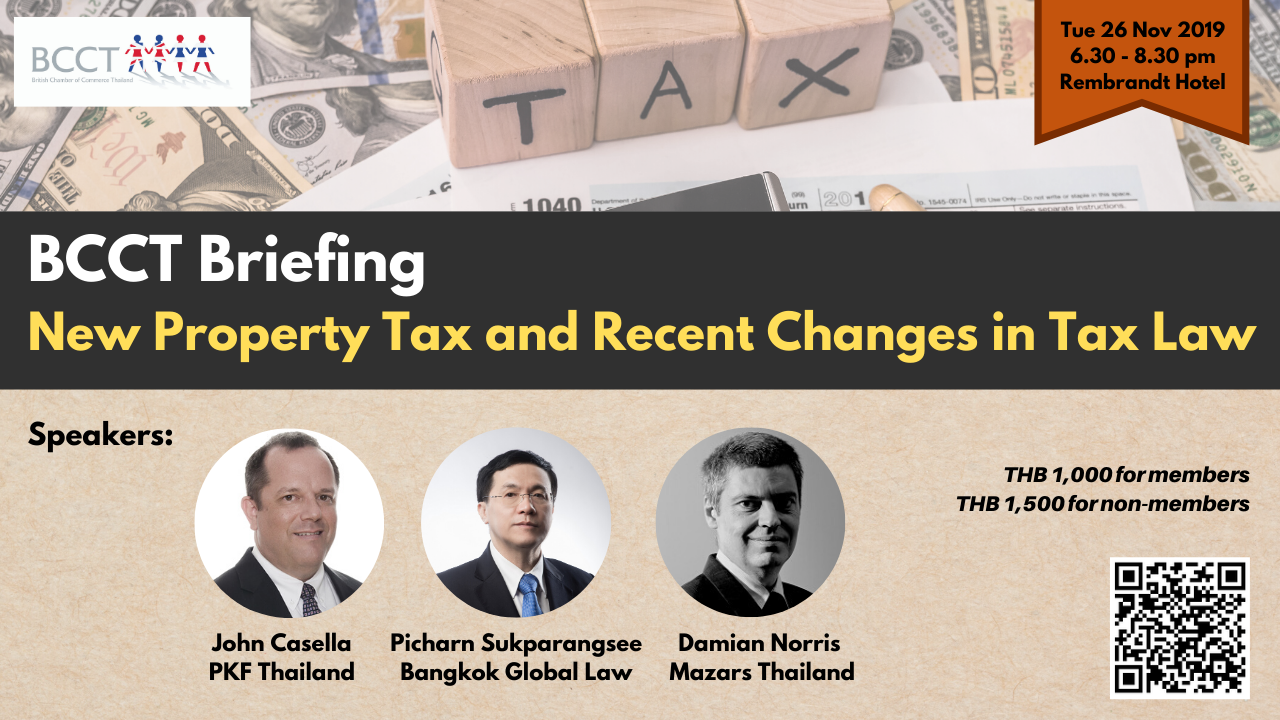 More about speakers:
John Casella (PKF Thailand) has over 26 years' experience in accounting and consulting for a wide range of companies and projects in South East Asia and North America. He joined PKF in 2013 after building up a strong team at Baker Tilly, where he was partner in charge of Tax and Business Solutions. At PKF, John is directly focused on the growing the tax advisory and corporate legal teams, as well as provision of integrated services to accounting and payroll clients.
Picharn Sukparangsee (Bangkok Global Law) is a founding partner of Bangkok Global Law. Specialised particularly in finance, securities and taxation law, he is also an experienced litigation law and handles very important cases involving legal disputes. Picharn is an active member of the Legal and Tax Committee of the British Chamber of Commerce Thailand and the American Chamber of Commerce in Thailand.
Damian Norris (Mazars Thailand) is the International Tax Partner based in Bangkok with over 30 years of taxation experience. He is an acknowledged expert in international tax issues including transfer pricing and the use of double tax treaties and has conducted numerous seminars in this field both in Thailand and overseas.