Details:

You are invited to attend the BCCT Half-Day Workshop on Market Research

Event details:

Date: Thursday 24th October 2019

Time: 2.00 – 5.00 pm (registration at 1.45 pm)

Venue: Grand Centre Point Ploenchit, 100 Wireless Road (BTS: Ploenchit exit 5). Map


Language: This workshop is conducted in English.

Cost: THB 2,000 for members and THB 2,500 for non-members. Price includes course materials and coffee break. Pre-registration is required.

Payment: Pre-payment for the full fee is required by 5.00 pm on Thursday 17th October. Click here for payment methods.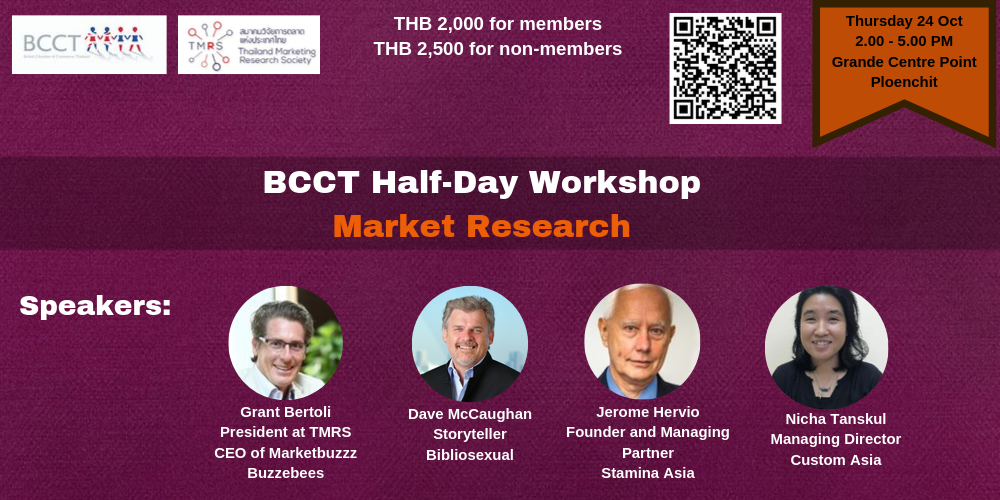 As companies prepare their plans for business in Thailand in 2020 and the next decade, they need to be better prepared in understanding what matters to Thai people.
The Thailand Market Research Society (TMRS) is dedicated to helping business succeed by encouraging the use of better quality market research and through that better decision making. This workshop will help you understand some of the key trends and insights and the importance of these for your future development plans.
Key issues:
The key demographic trends affecting the Thailand marketplace: The booming aging market, the peak of Gen X power, the importance of understanding what younger women want

How purchase decision making is being made: Case studies of real market research and what they tell us about the use of online/offline shopping and preference

Media habit of Thai consumers and how it differs from the rest of the world

Effective methods for understanding what matters to your target customer/consumer: What market research methodologies are working best and what to look out for to avoid disappointing results
Agenda:
Major demographics trends and the role market research in understanding what matters

3 Demographic trends sessions

Panel discussion: Best Practice to use market research to help clients do business in Thailand

Q&A
About the speakers:
Grant Bertoli is President at TMRS and CEO of Marketbuzzz at Buzzebees, a mobile technology company. He has consulted a range of 500 companies and a number of leading global brands in Asia Pacific and the Americas. He advises top executives, company management, corporate boards, management and managers at all levels to create stronger and competitive business strategies.
Dave McCaughan is Storyteller at Bibliosexual, a consultancy that helps brands better understand the people of Asia and how they should create stories that will stick. He has over three decades of experience across the Asia-Pacific region leading the development of communication strategies and understanding Asian consumer trends.
Jerome Hervio is Founder and Managing Partner at Stamina Asia. He was a Research Director for Research International in France and Managing Director of Research International East Africa in Africa. Jerome started Research International in 1998, then founded Ipsos Thailand in 2005, which has quickly grown and become the leading agency in customized research.
Nicha Tanskul is Managing Director at Custom Asia, a marketing research and consultancy company that specialises in consumer insight and branding. She has worked for leading global brands in Asia Pacific and the US on various challenging projects on new concept and product development, branding, customer satisfaction, loyalty and delights.