Details: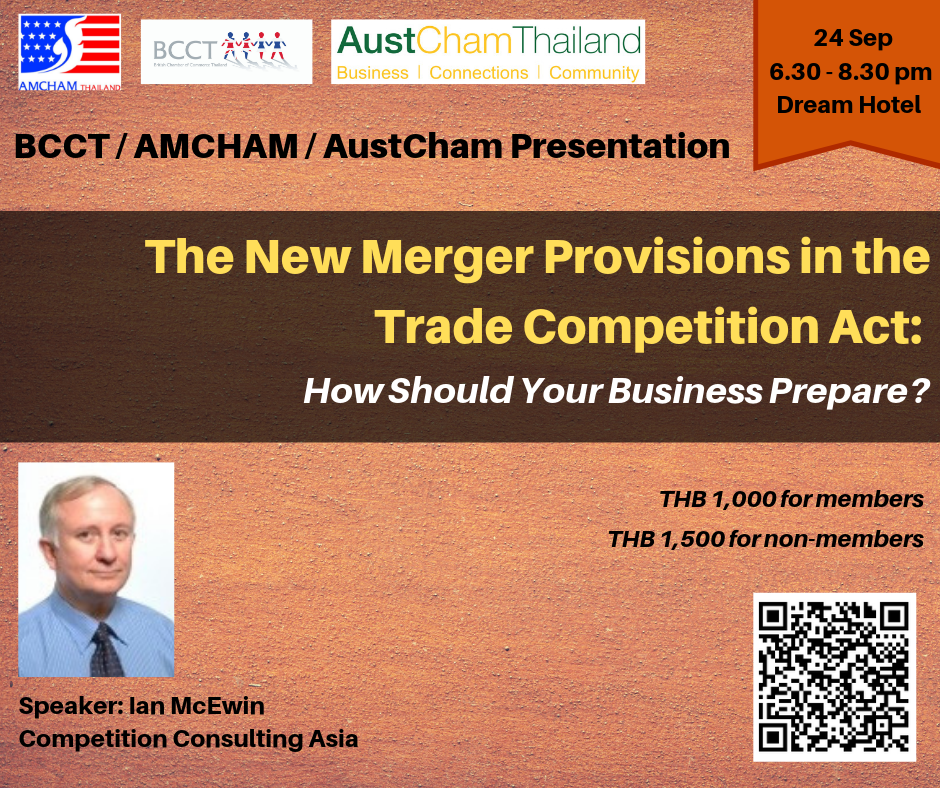 BCCT in collaboration with AMCHAM and AustCham invite you to an evening briefing on

The New Merger Provisions in the Trade Competition Act: How Should Your Business Prepare?

The amended Trade Competition Act (2017) imposes substantial merger notification obligations where relevant turnover exceeds THB 1 billion. Mergers are defined to include not only mergers between competitors or between buyers and sellers but also the acquisition of all or part of the assets or stocks in order to control another business.
Permission must be obtained from the Trade Competition Commission in advance where the outcome leads to a monopoly or a dominant position. Other mergers that 'substantially reduce competition' must be notified to the Commission within seven days of completion. To comply, businesses contemplating mergers or acquisitions must aware of all relevant competition law markets involved in the transaction and be able to assess the likely impact of the merger on competition.
Date: Tuesday 24 September 2019
Time: 6.30 – 8.30 pm
Venue: Dream Hotel Bangkok Soi Sukhumvit 15 (BTS: Asoke exit 1 or MRT: Sukhumvit exit 3)
Cost: THB 1,000 for members and THB 1,500 for non-members. Price includes drinks and finger food. Prepayment is required by Friday 20 September. Payment method is here

More about speaker:
Ian McEwin heads Competition Consulting Asia and is currently a Visitor in the Law Faculty at Chulalongkorn University. He has a law degree (Hons 1) and a PhD in economics from the Australian National University. In 1985 he was appointed to the Business Faculty at the University of Chicago as a Visiting Scholar in Nobel Prize winner George Stigler's Centre.
Ian was Foundation Director of the Centre for Law and Economics at ANU and has been an expert witness in court in major litigation in Australia and New Zealand in competition law, damages valuation etc. From 2002-2004, he worked for Singapore's Ministry of Trade & industry helping with the design and implementation of Singapore's competition law. Subsequently, he became the foundation Chief Economist for the Singapore Competition Commission (2004 to 2008). During that time he was also appointed a Member of the Singapore Copyright Tribunal.
He subsequently became Visiting Professor of Law at the National University of Singapore, then became Visiting Professor in the Law Faculty at Chulalongkorn University, then the Khazanah Nasional Chair of Regulatory Studies at the University of Malaya for two years. He has taught on several courses on economics for competition law for judges and regulators in Asia including the OECD and George Mason Law School's Global Antitrust Institute (with Judge Doug Ginsberg, until recently Chief Justice of the US Court of Appeals for the DC Circuit and Joshua Wright, ex Commissioner of the U.S. Federal Trade Commission).