Details:

Understanding your psychological performance and ability to control emotion (stress) unlocks your tapped potential, provides clear goal-setting and achievement; leading to improved personal performance as well as communication and collaborative working relationships.

This workshop will help you to better understand the construct that informs your thoughts, emotions, behaviours and outcomes.

Participants will grow as an individual, further enhance their performance, and create even more fulfilment for themselves in their day-to-day work and life.

Register now and hear more about "Peak Performing Mind" from our speaker, Paul McVeigh, (Owner of ThinkPRO / football's No. 1 keynote speaker), who is an expert in this field.

Topic: Peak Performing Mind

Key issues: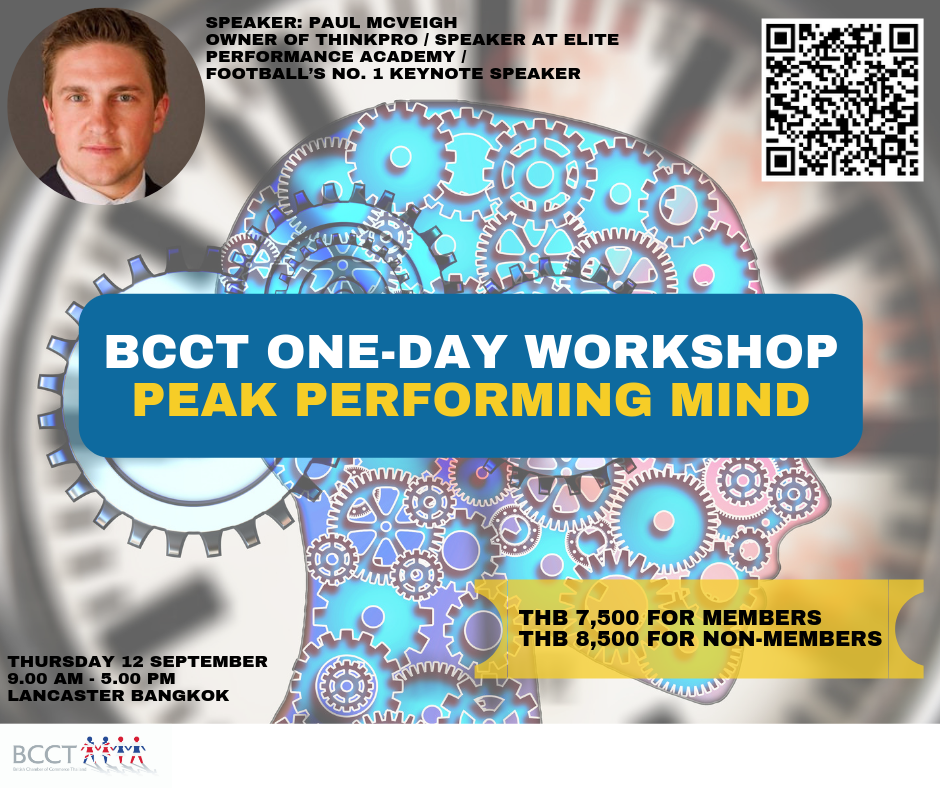 Event details:
Date: Thursday 12 September
Time: 9.00 am – 5.00 pm (registration at 8.30 am)
Venue: Lancaster Bangkok
Language: This workshop is conducted in English.
Cost: THB 7,500 for members and THB 8,500 for non-members. Price includes course materials, coffee breaks, and lunch. Pre-registration is required.
Payment: Pre-payment for the full fee is required by 5.00 pm on Friday 6 September.

Payment method: Here
Cancellation policy: BCCT is not able to refund for any cancellation after 5.00 pm on Friday 6 September.
Agenda:
8.30 am Registration & networking
9.00 am Morning session
12.00 pm Lunch
1.00 pm Afternoon session
5.00 pm Close
About speaker:
Paul McVeigh is football's No. 1 keynote speaker and the only former Premier League footballer to have a Masters in Sports Psychology. He takes the many lessons he learnt from his 16 years at the top of his game as a Premier League footballer for Tottenham Hotspur and Norwich City and translates these into strategies for success for organisations from all different walks of business life.
Since retiring from football, Paul has seamlessly made the transition from professional athlete to keynote speaker alongside his regular spot as a sports presenter for Sky Sports, TalkSPORT and BT Sport.
He is also a published author and owner of ThinkPRO, the mental performance company that is working with professional football clubs in the Premier League and Championship and a speaker at Elite Performance Academy, the training company that is working in creating student pathways into higher education and professional careers, through sport and education for students and teachers at International Schools.