Details:

*Special thanks to SpaceWork for hosting/sponsoring food for this event*

Join us to hear from Lars Wittig, Country Manager Regus, HQ & Spaces by IWG S.Korea, Philippines, Vietnam, Cambodia, Thailand & VP Sales ASEAN, S. Korea, Taiwan. Lars Wittig will seek to address how the office no longer is defining our workplace. Instead, it has evolved from workplace to workspace.

The grand, old "Head Offices" is replaced by "Group", but where are they? If working whenever and wherever, do we even need the traditional office, or can we simply work from home or elsewhere? How important is it to surround ourselves by colleagues and piers? Can communities increase productivity or simply distract? What's the take of the CFO and the HR Executives? Not least, how do companies face the future of workspace in a world where speed of change is ever faster?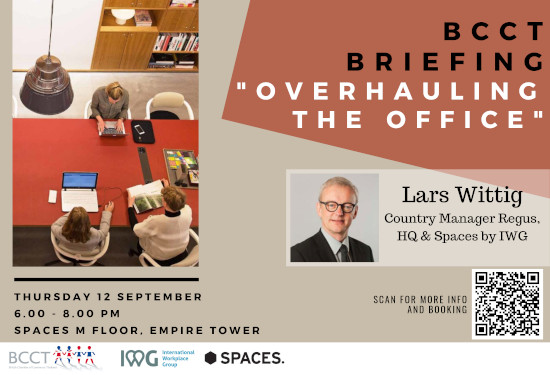 Event detail:
When: Thursday 12th September 2019.
What time:
6.00 - registration and networking
6.30 - presentation
7.00 - Q&A
7.30 - networking
8.00 - close
Where: Spaces @ Empire Tower, M Floor , Empire Tower, South Sathorn Rd. (Chong Nonsi BTS sky train station)
How much: THB400 for members. THB600 for non-members. Price includes drinks and finger food. Pre-registration is required.
More about speaker: please click (profile)