Details:

*BCCT members are invited to attend this event free of charge*

The Australian Embassy Bangkok and Austrade, together with the Australian-Thai Chamber of Commerce, British Chamber of Commerce Thailand, and German-Thai Chambers of Commerce, invite our Members to attend a panel discussion on Navigating the 4.0 Digital Revolution, to be held on Thursday 13 June, 18.00-19.30, at the Auditorium of the Australian Embassy Bangkok.

Join us for an interactive discussion on how businesses practically digitalise their operations, focusing on the tools and strategies that companies should employ and adopt if they want to remain competitive in the 4.0 compliant economy. Panelists will share their experience about how firms can use technology to re-define their market position, upskill employees, engage with supplies and customers through digital means and develop those capabilities essential for a 4.0 world.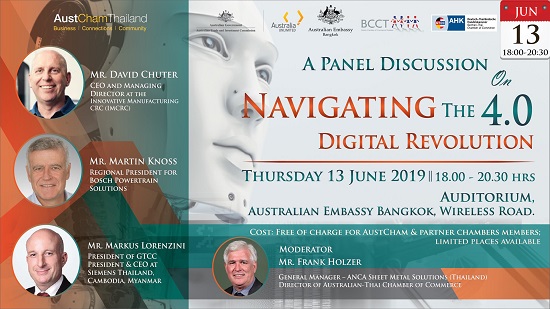 EVENT DETAILS
When: Thursday, June 13, 2019 || 18:00 - 20:30 hrs.
18.00-19.30 Panel discussion
19.30-20.30 Networking
Where: Australian Embassy Bangkok ||
How much does it cost: Free of charge for AustCham, BCCT and GTCC Members
Booking: direct to AustCham. Please click here. Deadline is 5pm on Tuesday 11 June
Panellists:
Mr. David Chuter; CEO and Managing Director at the Innovative Manufacturing CRC (IMCRC) || Bio
Mr. Markus Lorenzini; President of German-Thai Chamber of Commerce; President & CEO at Siemens Thailand, Cambodia, Myanmar || Bio
Mr. Martin Knoss; Regional President for Bosch Powertrain Solutions || Bio
Moderator: Mr. Frank Holzer; General Manager of ANCA Sheet Metal Solutions; Director of Australian-Thai Chamber of Commerce || Bio