Details:

BCCT Members Open Evening

When: Wednesday 14 August 2019. 6.30 - 9.00pm

Where: The St. Regis (BTS: Rajdamri exit 4)

Cost: no admission but please book in advance. Food & drinks are provided.

Survey: if you could not attend in person please help fill in the survey by clicking HERE

Dear BCCT Member,

As in previous years, the BCCT intends to hold a Membership meeting, open to one person from each member company, to gain feedback and ideas for the improvement of the BCCT's services to Members.

This will be an informal gathering to allow members to express their views. We will be looking at membership benefits, the quality and format of events, our digital and marketing communications platforms, and much more.

As a member, you are invited to attend this meeting which will take place at The St. Regis Bangkok on 14 August 2019 at 6.30 - 9.00 pm. There is no cost attached to attending this members-only meeting and you will be provided with good quality food and beverages in return for sharing your views with us.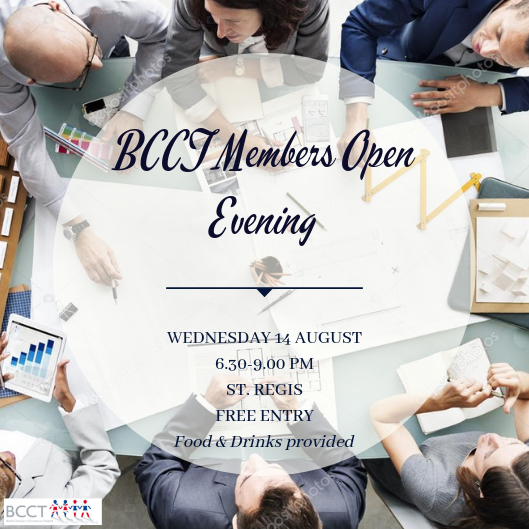 The BCCT, as a membership organisation, is well aware that the ultimate role of the organisation is to serve its members. In that respect, there may well be things that we are not doing so well, areas where you might wish us to place a greater emphasis or aspects of the work of the Board and the staff that you feel could be improved. Equally, you might wish to tell us where we are getting it right!
With so many members it will always be difficult to please everyone but without your support in discovering what you think, it would be impossible. Previous meetings have resulted in some changes including a new logo and new magazine title, some changes to the constitution in terms of voting processes for Directors and other smaller changes in emphasis and events.
Please try to attend this meeting if you possibly can. You will have plenty of opportunities to voice your thoughts and also for some informal networking and discussions with others.
With your support, the BCCT can be even more effective in doing what you, as a member, require of it. We also hope to spend a little time telling you about the things the BCCT can do for you that you may not be aware of.
We hope that you can attend this meeting. If you can, please register through the website in the normal way. If you cannot attend but wish to make your views know, you can do so by emailing Khun Banthita at banthita@bccthai.com and I will undertake to collate those responses and include them in the feedback.
Best wishes,
Chris Thatcher
Chairman