Details: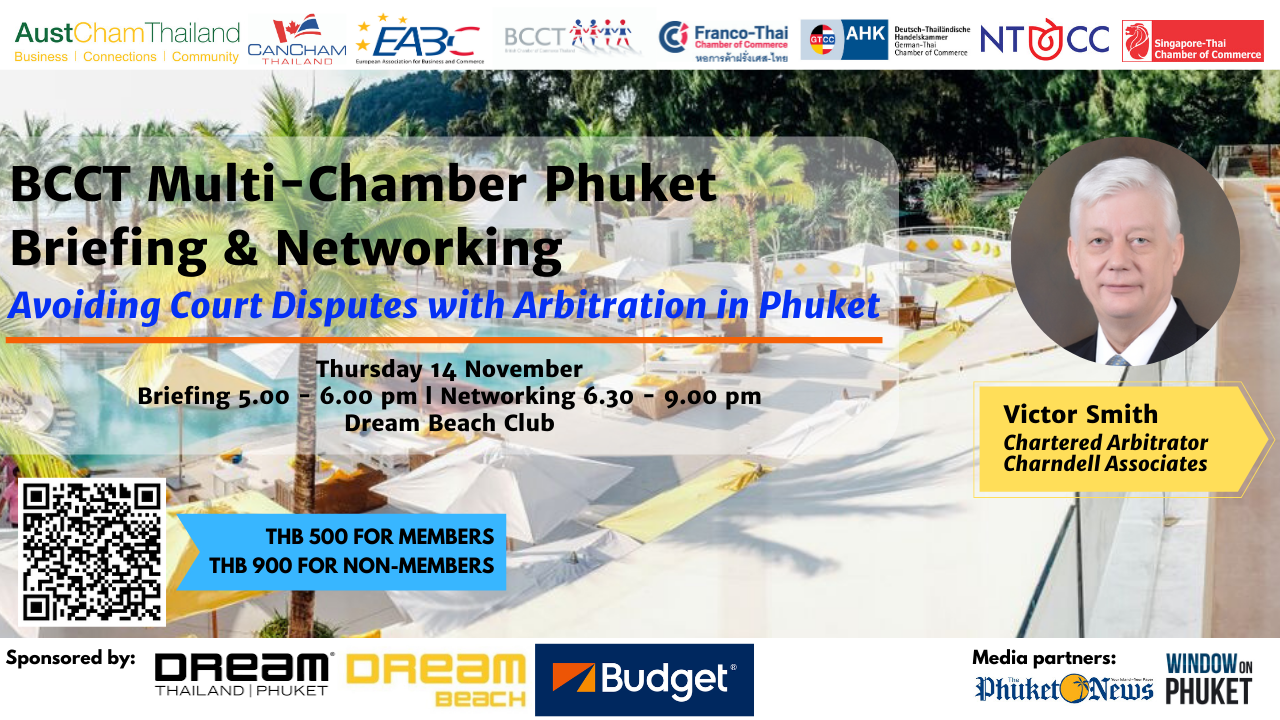 *Sponsorship opportunity please email rungjit@bccthai.com More details see below*
BCCT in cooperation with Australian, Canadian, EABC, French, German, Netherlands and Singapore Chambers of Commerce invites you to a Multi-Chamber Phuket Briefing & Networking.

Victor Smith, Chair of The Commission on Arbitration & ADR for the International Chamber of Commerce Thailand and Chair of the Thailand Branch of the Chartered Institute of Arbitrators, will speak about Avoiding Court Disputes with Arbitration in Phuket. After the briefing, join us for business networking. Excellent opportunity to connect while enjoying great food & drinks.

Date: Thursday 14th November 2019
Time: Briefing 5.00 - 6.00 pm/ Networking 6.30 - 9.00 pm (last drink at 8.30 pm)
Venue: Dream Beach Club, Layan Beach (map)

Cost:
-The briefing is free to attend but pre-registration is required. Please state briefing when making a booking
-The networking is THB 500 for BCCT members and participating chambers and THB 900 for non-members payable at the door. Price includes food and free flow of soft, beer and wine.
More about the briefing:

Commercial disputes are a common occurrence today in all types of businesses. Is it best to refer these disputes to the Thai courts or to arbitration and can the arbitration take place in Phuket? Victor will be explaining what are the advantages and disadvantages of arbitration when compared to litigation in the Thai courts, what must be done if you wish to avoid having your disputes referred to the Thai courts, what practical measures should be taken into consideration to maximize the benefits of the arbitration process and the practicalities of arbitration in Phuket."
About the venue:
Dream Beach Club, Lanyan Beach Phuket - Contemporary Mediterranean in design and style….
The ultimate beach club dedicated to creating a unique Lifestyle experience an ideal destination to relax and party under the Phuket sun.
Situated on Layan Beach surrounded by palm trees with direct access to the tropical sands and warm turquoise waters of the Andaman Sea. Only a 5 min transfer to Dream Phuket Hotel and Spa and 25 mins from Phuket International Airport.
A Beach Club in Paradise
We're ready to welcome you at the ultimate beach club that perfectly intertwines the marvels of the poolside cool with lush aspects of beachside chic. Dedicated to creating a unique lifestyle experience, Dream Beach Club serves as your go to destination – no matter whether you are looking to relax or to truly unfold and party!
Featuring an annual entertainment calendar spiked with performances of world-class performers, artists, International DJ's, seductive parties and exclusive events – all we need is you! When are you planning to come?
Accommodation: Dream Beach Phuket is offering a special room rate at THB 3,200 net including breakfast. RSVP: Khun Tararat sm2@dreamhotelphuket.com or call 076-609-888
Sponsorship: BCCT is seeking multiple co-sponsors for this event. Fee is THB 5,000 plus VAT. If you are interested please email - rungjit@bccthai.com - as soon as possible.
Benefits:
- 2 complimentary entries to the event
- logo/s (to be supplied by sponsors) prominently displayed on stage back-drop at venue
- option to erect a display with promotional brochures outside function room at venue (subject to space constraints)
- logo on all multiple e-mail circulars to members (2,400+ member and 300+ Phuket non-member contacts in Thailand)
- logo on BCCT website booking page
- post-event publicity in BCCT magazine, The Link and on the homepage of the BCCT website
- A full list of attendees with contact details
Don't miss this opportunity to showcase your products and services available to a network of great business potentials.