Details:

*Special thanks to venue/food sponsor Mom Tri's Villa Royale and corporate sponsor Budget Car Truck & Rental*
---
BCCT in cooperation with Australian, Canadian, EABC, French, German, Netherlands and Singapore Chambers of Commerce invites you to a Multi-Chamber Phuket Briefing & Networking.
John Casella, Partner PKF Thailand, will speak about updates and changes on Thai Labour Law, Visas & Work Permits. After the briefing, join us for a business networking. Excellent opportunity to connect while enjoying great food & drinks.

Date: Thursday 10th October 2019
Time: Briefing 5.00 - 6.00 pm/ Networking 6.30 - 9.00 pm (last drink at 8.30 pm)
Venue: Mom Tri's Villa Royale on Kata Noi Road Beach (map)

Cost:
-The briefing is free to attend but pre-registration is required. Please state briefing when making a booking
-The networking is THB 500 for BCCT members and participating chambers and THB 900 for non-members payable at the door. Price includes food and free flow of soft, beer and wine.
Accommodation: Mom Tri's Villa Royale is offering a special Royal Wing Suite rate at THB 4,600 net including breakfast with a free upgrade to Beach Wing Suite on 10 & 11 October. RSVP please call Khun Tip at 076-333-569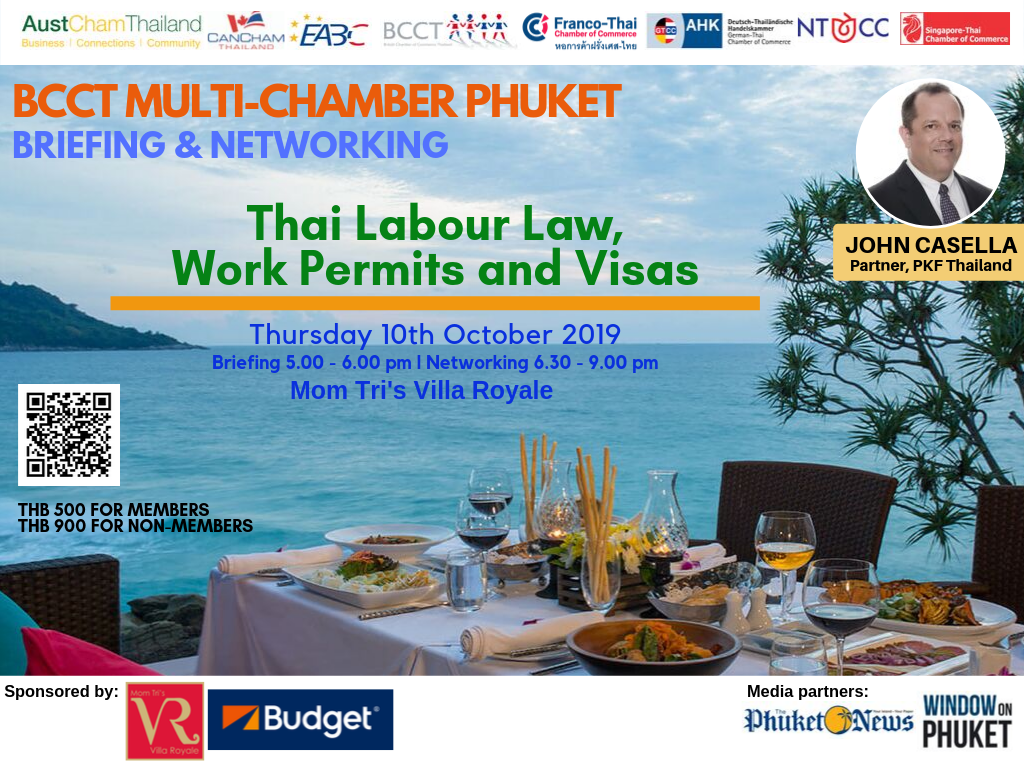 About the briefing:

"There has been a lot of news recently regarding updates and changes to the Thai Labour Law, Visas and Work Permits in Thailand, particularly the Immigration Department's changes in their enforcement of TM-30 & TM-28 requirements. They all have a bit of "The Good, The Bad and The Ugly." Some a bit more one than the other…. Featuring no cowboys at all, our PKF specialists will provide a "Spaghetti Eastern" look at "Thai Labour Law, Visas and Work Permits - The Good, The Bad and The Ugly." We will give both general overview and updates as they pertains to all of Thailand, and will also be looking more closely at the recent steps being taken by the Thai Government revise/resolve the problems being encountered with TM-30 / TM-28 enforcement. Sporting a fetching poncho and an unlit cigarillo will be the Man With a Name, Tax Partner - John Casella. Also, Once Upon a Time in the East will feature the heroine whom always saves the day, Khun Chutinun, head of Corporate Legal Services."
About Mom Tri's Villa Royale:
A boutique hotel, personal creation of the renowned artist and architect Mom Luang Tridosyuth Devakul (Mom Tri), in Phuket situated on a headland overlooking the Andaman Sea and the white sand beach of Kata Noi. Landscaped into rocks overlooking the sea is a lovely saltwater swimming pool, while there are two freshwater pools. A private path from the hotel leads to the sugar-white sand beach and the turquoise water of Kata Noi. Mom Tri's Villa Royale offers a rare and unforgettable opportunity to experience graceful live is one of Phuket's last hideaways.
Menu & drinks:
- Vegetarian spring rolls
- Watermelon and feta cheese with balsamic reduction
- Mini mozzarella skewer with cherry tomato
- Pork Wonton
- Tomato Bruschetta
- Mushroom Bruschetta
- Grilled vegetable salad with pesto
- Mini quiche with spinach and ham
- Mini pizza (tomatoes, smoked assortments)
- Chicken satay
- Goong Manow
- Crispy fish and nuts
- Seasonal fruit skewers
- Chocolate brownies
- Lemon tartlet
- Chocolate mousse
- Soft drinks, beer and wine