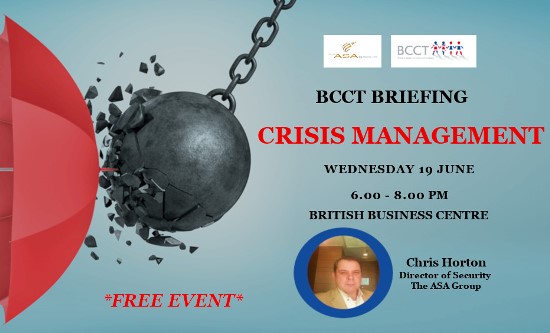 BCCT cordially invites you to an evening briefing on Crisis Management at 6-8.pm on Wednesday 19 June at British Business Centre. The event is free to all. Food and drinks are provided.
The onset of a crisis event can present a wide range of potentially negative impact scenarios to any business, and this can occur from a number of potential sources. Natural or geopolitical risks will rapidly cascade into a number of major problems if businesses are not adequately prepared to tackle the initial and ongoing crisis management phases; particularly regarding decision making and communicating with key stakeholders. Demonstrating the value of a proactive design in Southeast Asia, where the local business mindset is fundamentally reactive, is of benefit to anyone responsible or accountable during a crisis.
Speaker is Chris Horton, Director of Security, Aviation Service Asia (Thailand) Ltd. He will talk about an introduction to crisis management including:
How a crisis can impact a business
Defining and prioritizing a crisis
First response protocols & meeting agendas
Suggested team composition
Classifying an incident
Notification and escalation processes
Venue and information management
Communicating with stakeholders
Post crisis activities
Suggested supporting templates
More about the speaker:
Chris joined the ASA Group in 2018, based in the Bangkok office, managing the delivery of all crisis & security consulting across the APAC region. He served with the Royal Marines Commandos for 12 years, seeing active duty over several tours of Northern Ireland and the 1991 Iraq invasion. He has been working in the security industry for the past 18 years. Chris was among the first security consultants to deploy into Iraq after the 2003 US invasion, supporting the commercial energy restructuring of the country. After managing the safety & security of the Newsweek Magazine Bureau in Baghdad in 2006/7 during a significantly volatile period, he led a diplomatic protection team for the British FCO in Baghdad and went on to establish and manage fully integrated security for sizeable energy & Oil/gas facilities in Kurdistan. Between 2011 & 2018 Chris was one of the principal crisis management & security consultants for a leading multinational risk management firm covering Southeast Asia, his regional experience includes numerous Key projects in Thailand, Vietnam, Laos, Myanmar, Indonesia, Malaysia, Philippines & Singapore. He has supported in real time and developed numerous proactive crisis management systems for a varied client base including response to a notable terrorist attack on a major mining facility in Mindanao, and direct support for the largest automotive client in Thailand.
Special thanks to our event sponsor:

The ASA Group Premier Business Aviation and Security Services in ASIA
Founded in 1999, The ASA Group has a long history of excellence in ground handling, supervision, permits, slots, private jet services, corporate security, close protection, and luxury concierge services. We provide a full suite of services to businesses and VIP travelers, with a close focus on the Asia Pacific Region.