Details:

Globalisation is a big word, covering the entire area of the civilised portion of the planet, involving all aspects of commercial activities (trade, industry and services), and business entities (large and small, well-established and newly emerging).

B2B (and B2G) is another big word, representing over 95% of Global Business. It means dealing with sophisticated, intelligent and business-minded customers who know what they want, how? where? and when?

Therefore, ALL global supply chains, old and new, large and small, share a common challenge: the need for sustainable competitive advantage to win and retain customers.

This calls for the need to establish and create sustainable competitive advantage as a critical factor to develop new business paradigms to seek new opportunities or retain and "grow" existing ones. It also calls for innovative and creative approaches to the formulation and implementation of strategies and has essentially added an additional dimension to the traditional "Porter's 5 Forces of Competition" concepts.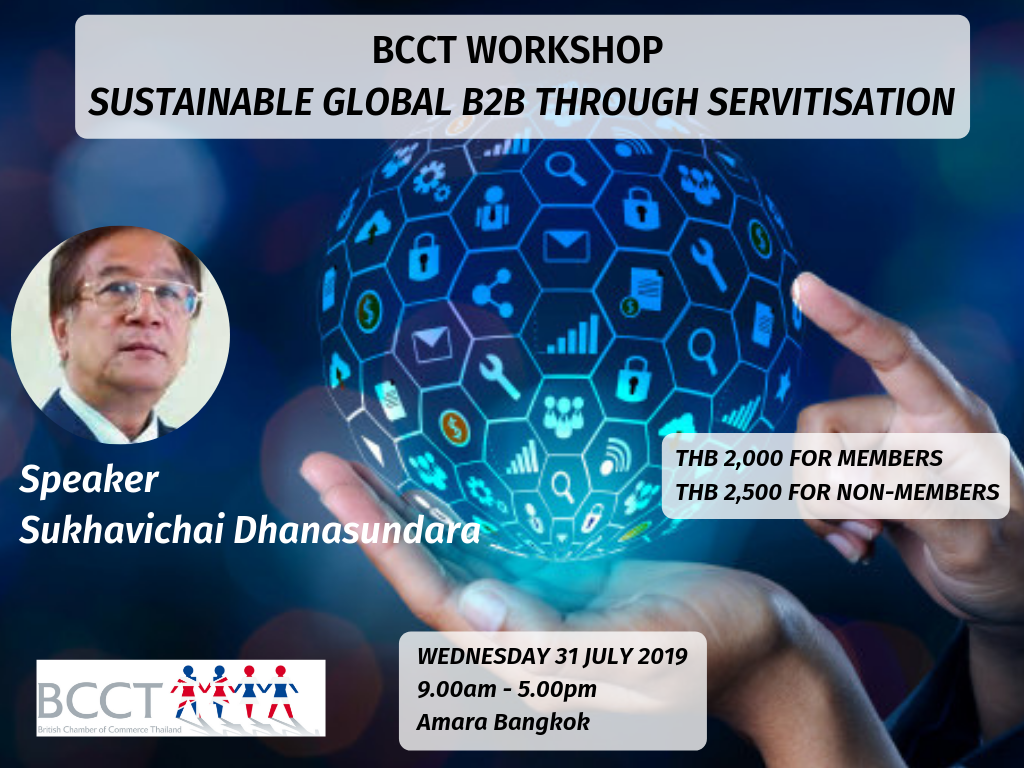 Key Objectives:
The workshop will cover the following issues:
The emerging face of Global B2B
Business development through customer focus and customer retention
From delivering products and services to being a total solution provider
The emergence of "servitisation" as a new dimension of sustainable competitive advantage
The principle and concepts of "servitisation" and the role of "digitalisation"
Study examples of "servitisation" as practised by selected multinationals, and
To develop a practical application of knowledge through a group case study in class.
Who should attend: Corporate officers with responsibility for:
New business development
Organisational strategic long-term planning
Customer-focused business and delivering value-added solutions
Customer retention for sustainability and growth
Business partnership integration
Resources mobilisation and team building
Event detail:
Date: Wednesday 31 July 2019
Time: 9.00am - 5.00pm (8.30am registration)
Venue: Surawong 1, Amara Bangkok (nearest MRT station: Sam Yan, Exit 1) Map
Language: This workshop is conducted in English.
Cost: THB 2,000 for members. THB 2,500 for non-members. Price includes workshop materials, 2 coffee breaks, and 1 lunch. Pre-registration is required.
Payment: Pre-payment for the full fee is required by 5.00 pm on Friday 26 July.
Payment method: Here
Cancellation policy: BCCT is not able to refund for any cancellations after 5.00 pm on Friday 26 July.
---
About Speaker:
Khun Sukhavichai Dhanasundara has been involved with the industrial sector for over 40 years in the fields of industrial promotions as resource person for the BOI, industrial estates and factory development as Managing Director of TFD plc and partnering with the IEAT, project development and financing under IFCT, and factory operations with Ideal Standard and American Standard plc.
Currently, Sukhavichai lectures in MBA and BBA programs at the Lucerne University of Applied Sciences and Arts (Switzerland) and Bangkok University International College. He is a founding member of the BCCT Management Development Group, and is also Advisor and Facilitator, Asian-Pacific Development Communication Centre, and Director, Thai Business Coalition on Aids.
**This event is kindly sponsored by Khun Sukhavichai, Honorary Advisor to the Board of BCCT as well as Chairman of the Management Development Group.**