Details:

You are invited to attend the BCCT One-Day Workshop on


How to Communicate with Confidence

Event details:

Date: Tuesday 1st October 2019

Time: 9.00 am – 5.00 pm (registration at 8.30 am)

Venue: Hotel Muse, Soi Langsuan (BTS: Chidlom exit 4)

Language: This workshop is conducted in English.

Cost: THB 7,500 for members and THB 8,500 for non-members. Price includes course materials, coffee breaks, and lunch. Pre-registration is required.

Payment: Pre-payment for the full fee is required by 5.00 pm on Tuesday 24 September. Click Here for payment options.

Cancellation policy: BCCT is not able to refund for any cancellation after 5.00 pm on Tuesday 24 September.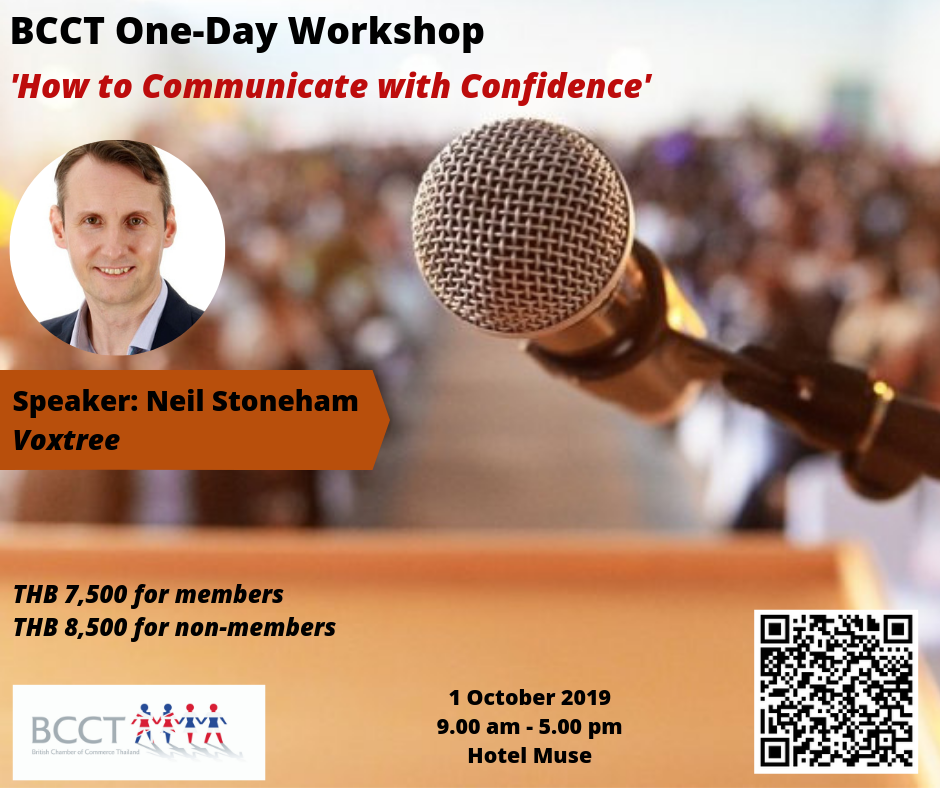 Do you ever wish you could walk into a room and get everyone's attention? And then make them listen and absorb your every word?
There's no doubt that confident communication lies at the heart of every business success. Whether you are speaking in a meeting, coaching your colleague or presenting to clients, what you say and the way you say it has a powerful impact.
Yet many people lack confidence when communicating in a professional environment. The good news is that, simply by learning a few techniques, you can overcome your fears and communicate with conviction.
What's the point?
With increased confidence, you can be more persuasive and influential. You will earn more respect and be more successful in your day-to-day dealings with others. It will make you more productive, which in turn increases the profitability of your organisation.
After this one-day workshop, you will come away with the knowledge and motivation to become a first-class communicator. You will need to practise, of course, but the techniques you learn will soon give you the confidence to walk into a room and get everybody listening.
Agenda
The power of being a confident communicator

How to identify and overcome the obstacles to confidence

Using assertive language to get what you want and earn respect

Confident body language

How to speak clearly with conviction

Inspiration to increase your confidence even more
Throughout the workshop, you will get an opportunity to put what you learn into practice. The activities will be fun but with some serious learning behind them.
Who should attend?
This workshop is ideal for managers and leaders, particularly those who are at the beginning of their management career. It is also perfect for customer-facing professionals in the hospitality, finance and recruitment sectors. HR managers will find this useful, too, both for themselves and their teams.
About the trainer:
Neil Stoneham is the MD of Voxtree – an international communications consultancy. He spends his time training people how to write and speak in a way that helps them do business better. Or else he's writing for businesses to make sure their messaging hits the sweet spot – free from all the jargon and clichés that plague much of today's business communication. Neil works with professionals from diverse sectors such as auditing, embassies, hotels and banking. Clients include Mazars, British Embassy, Shell, Hard Rock and Conrad hotels. Previously, Neil wrote for the Bangkok Post and taught at two top international schools in Thailand's capital.