Details: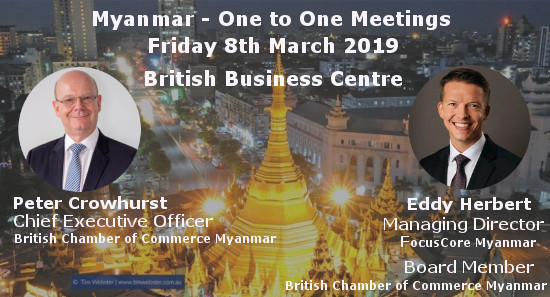 Peter Crowhurst, new Chief Executive Officer of the British Chamber of Commerce Myanmar joined by one of their business & trade service team together with Eddy Herbert, Board Member of British Chamber of Commerce Myanmar and Managing Director of FocusCore Myanmar, will be visiting Bangkok on Friday 8th March and are happy to have One to One Meetings.
Date: Friday 8th March 2019

Time: 9.00am - 4.00pm (1 hour session)

Venue: British Business Center, BCCT office, 7th Floor, 208 Wireless Road.

Booking: to book your one-to-one session please state your preferred time in an email to info@britishchambermyanmar.com
Please note that sessions will be booked on a first come first served basis.
Note: You should be a British business, or subsidiary or affiliate of British business interest, or in some way delivering value back to the UK.
About Myanmar:
After decades of isolation and economic stagnation, Myanmar, formerly known as Burma, is undergoing a transition as it liberalises its economy and shifts towards a more democratic system of government.
From 2011 the previous military-led government launched a series of reforms aimed at improving the economy, which included floating the local currency (kyat), introducing new fiscal regulations, granting the central bank greater autonomy, opening the telecoms sector to international companies, encouraging FDI and liberalising agriculture and trade.
The first open and credible elections in over half a century were held in November 2015. The National League for Democracy (NLD) then took office on 1 April 2016 in a peaceful transition that helped improve overall confidence in the long-term trajectory of the country.
Throughout its first three years in office, the NLD-led government has demonstrated an increased willingness to engage and intervene in the affairs of the private sector, especially in regards to land, real estate and infrastructure issues.
Signs of greater business and economic focus have more recently begun to emerge with the passage of new legislation, such as the updated companies law in August 2018, and the announcement of a national "project bank", which is to be implemented under the recently-announced Myanmar Sustainable Development Plan (MSDP).
More announcements and progress are also evident on large-scale industrial projects and commercial "cities" such as New Yangon City, Myanmar-China economic zones and a framework agreement for the Kyaukphyu Special Economic Zone.
Although Myanmar faces numerous challenges, its GDP growth rates are still among the highest in Southeast Asia and the largely untapped and underserved market presents vast opportunities. If these challenges can be addressed, the country's prospects are bright, including in the industrial sector.
About Peter Crowhurst:
Peter Crowhurst, appointed in December 2018, is the Chief Executive Officer of the British Chamber of Commerce, Myanmar an organisation representing 250-member companies active in the Myanmar market.
Peter was part of the founding team that established the Chamber of Commerce in July 2014 and served on the board for the last five years since its inception. Peter brings to the Chamber a wealth of business experience, having spent the past thirty years working in Asian Markets. Initially holding leadership roles in the Hospitality industry, in Hong Kong and China, subsequently transferring his skills into Real Estate Investment Management, becoming Head of Asset Management, with ING Real Estate Investment Management (part of the Dutch Banking Group) based in China. In this role he supported numerous real estate development and investment projects in China and Taiwan. During his time with ING and latterly CBRE Global Investors following ING's divestment, Peter was responsible for real estate portfolios in China, Taiwan, Singapore & Malaysia with assets in excess of USD 650 Million.
Peter's relocation to Myanmar was orchestrated through Yoma Strategic Holdings, whom he joined in 2013 when based in Singapore and moved to Myanmar full time shortly after as Head of Real Estate Asset Management at Yoma Strategic Holdings.
Since leaving Yoma Strategic Holdings in 2018 he is now full time at The British Chamber of Commerce in Myanmar providing pragmatic advice, trade and commercial services to investors & exporters considering investment or business development in Myanmar.
For information please visit – www.Britishchambermyanmar.com
About Eddy Herbert:
Eddy is from Sussex, England, educated at one of the leading Woodard Private Schools. He started his career with Haymarket Media Group thereafter continued his career as an entrepreneur working in successful businesses across the region and has been based in Asia for 18 years. Locations include; Shanghai, Taiwan, Singapore, and Myanmar from 2014.
He is a serial entrepreneur, building successful teams, creating a number of companies, and also the co-founder of Myanmar's leading corporate secretarial, BPO and recruitment firms. Both regarded as best in their class.
He has worked with, and brought into Myanmar, one hundred companies that are successful businesses. He has valuable connections with influential business leaders in the region, and most importantly in Myanmar. He is a well rounded resource for corporates, with deep understanding of the political climate in Myanmar, adding value for foreign corporates, so they adopt the best incorporation patch. He has an excellent network throughout Government departments and with senior officials, facilitating highly effective preparation and submission of documents, in the manner preferred by the authorities.
He has a valuable understanding of the legal landscape, with strong knowledge of the Companies Law, assisting entrepreneurs, SME's and corporates interested in Myanmar, providing contacts, result driven actions and guidance for optimum corporate set up.