Details: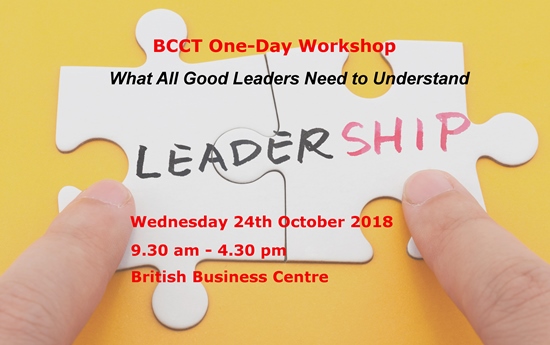 Date: Wednesday 24 October 2018
Time: 9.30 am – 4.30 pm (registration at 9.00am)
Venue: British Business Centre, BCCT office, 7th Floor, 208 Wireless Road
Topic: What All Good Leaders Need to Understand
Suitability: Suitable for all those with leadership and managerial roles – from junior executive to CEO
Facilitator: Lieutenant General Peter Pearson CB CBE, Founder and Director of Senior Advice Limited – a Leadership Consultancy. Detailed profile can be found here
Language: This workshop is conducted in English
Cost: THB 2,900 net per person for BCCT members & THB 3,400 net per person for non-members. This fee is inclusive of VAT, course materials and tea/coffee/biscuit.
Payment: Pre-payment for the full fee is required by 5.00 pm on Friday 19th October 2018. The fee for this training session provided by the BCCT qualifies for a 200% corporate income tax deduction for the member company. BCCT e-voucher is accepted.
Payment Methods: here
Cancellation policy: BCCT is not able to refund for any cancellations after 5.00 pm on Friday 19th October.
Course Outline:
Session 1 - The Fundamentals of Leadership - according to a very experienced leader
Session 2 - Leadership versus Management - how they differ and how they overlap
Session 3 - Strategic Analysis and Planning - the bones of a well-tested beast of a process
Session 4 - Public Speaking - an approach akin to that of a military operation