Details:

BCCT in collaboration with Tesco Lotus is delighted to invite you to attend the Tesco Lotus Open House

Date: Wednesday 31st October 2018

Time: 1.30 - 3.30pm (registration at 1.00pm)

Venue: Tesco Lotus Head Office (Sukhaphibal 1) Map

Speaker: Aurakanda Attavipach, Chief Human Resources Officer

Cost: free of charge if members choose to drive your own vehicles. THB 300 net per person including transport (van), snack and beverage on the van. When booking please indicate in the comment box of your transport option. This event is open to BCCT members only.

Payment methods: here

Parking: please advise your car licence number if you wish to drive.

Schedule:
1.00 - 1.30pm - Registration
1.30 - 2.15pm - Tesco Lotus introduction & Sharing People Practices and Experiences
2.15 - 2.30pm - Q&A session
2.30 - 3.00pm - Tesco Lotus walk-through
3.00 - 3.20pm - Store walk
3.20 - 3.30 - close

Booking: click HERE. Two representatives per member company due to space limitation. No walk-in, please.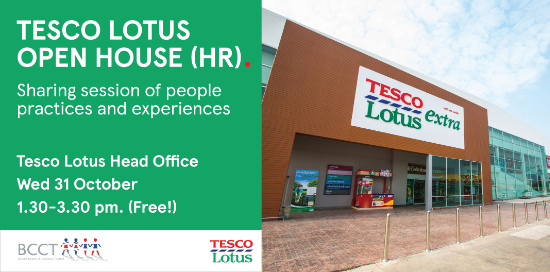 Organization description:
Tesco Lotus is the biggest international subsidiary of Tesco Group, one of the world's leading retailers operating in 10 countries. Our network of more than 2,000 stores located across Thailand, including online platforms, serves more than 15 million customers every week. We are committed to our purpose of 'serving our customers a little better every day' by providing great quality products at affordable prices.
One of our three values is "every little help makes a big difference." Our belief is that small actions can add up to make a big difference and that the way we run our business can make a positive contribution to our colleagues, our customers, our communities, as well as the environment.
Tesco Lotus is proud to have secured the highest number of awards for best workplace for Labor relations and welfare granted by the Ministry of Labor for the past 10 years. We have also be named Best Employer Thailand for two consecutive years by AON Hewitt.