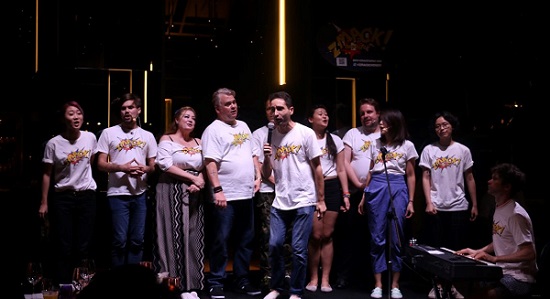 BCCT is delighted to invite you to attend the preview workshop Persuasive and Influential Communication on Friday 20 July from noon - 3pm at Vertigo TOO, Banyan Tree
What is Improv?
Improvisational theater is a form of theater and acting which trains performers to create comedy scenes from audience suggestions - in the moment, right before their very eyes.
What is ZmackWorks?
Zmack is a professional Improvisation theatre group based in Shanghai and performing around the world. They conduct corporate training workshops to many multinational companies where they use the Improv to build trust and resolve conflicts, gain acceptance and buy-in, develop winning teams as well as to drive creativity and innovation.
This their 4th visit to Bangkok and this is your chance to experience this very effective training method which you can use in your everyday work and play life
After lunch there will be a fun 2 hour experiential workshop where you understand what makes an improvisational mindset and also some of the key elements that make up their two day Persuasive & Influential Communication Workshop.
Introduction and Opening: A surprising icebreaker leading into an introduction of the concept of Influence and Persuasion.

The Improvisational Mindset: An exercise in improvisational theatre, followed by an introduction to the Seven Principles of Applied Improvisation

How do we persuade? A literal 'million dollar' game opens us up to a discussion of Dr David Rock's brain-based SCARF model of persuading and collaboration.

IMPROV TOOL 1: PRESENCE: A classic acting exercise is updated to illustrate the Applied Improvisation principle of Presence in interpersonal communication.

IMPROV TOOL 1: ACTIVE AGREEMENT: Participate in real-time innovation as we weave a remarkable story of the holiday that never was, using a simple two-word phrase that activates Positivity, Agreement and building together.

CLOSING: Imagine leaving a workshop with homework that you cannot wait to do… again and again!
---
More Event details:
Language: This workshop is conducted in English.
Cost: Members THB 900 and THB 1,200 non-members for 3-course western set lunch. Workshop is free of charge.
Payment: Pre-payment for the full fee is required by 5.00 pm on Wednesday 18th July. BCCT e-vouchers are accepted. The fee for this training session provided by the BCCT qualifies for a 200% corporate income tax deduction for the member company.
Payment Methods: here
Cancellation policy: BCCT is not able to refund for any cancellations after 5.00 pm on Wednesday 18th July.
---
Originally from Mississippi, Curt has lived and worked in China for 6 years. In 2009, he founded Zmack, which has grown from being an amateur improvisation comedy team to become Shanghai's brand for comedy.
His passion for entertaining and connecting with people led him to graduate from the University of Southern Mississippi with degrees in Radio, Television, and Film production and Speech Communication. Curt has worked as a TV host for the Fox TV network, a radio journalist, a theatrical actor, and a professional singer. In China, this passion has led to teaching and training others. His experiences include administration of two respected international primary school departments, professional theatrical coaching and leadership training.
Under Curt's leadership, Zmack now maintains 5 professional-level performing teams comprising over 30 professional and amateur actors from China and around the world, Zmack performs and trains improvisational theater in English, Chinese, French and Spanish languages at the Zmack Improv Training Center.