Details: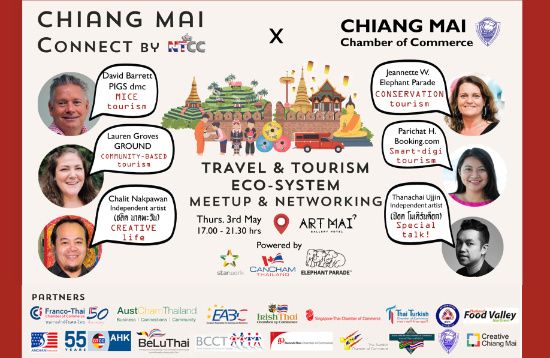 BCCT members are invited to NTCC Joint Chambers Chiang Mai Connect on Thursday 3 May at ART Mai? Gallery Hotel, Nimmamhemin Soi 3.
Connect with 100+ professionals from the travel & tourism eco-system and beyond - wide-ranging industries in the North - linking business groups from the international and local chambers of commerce, to the Federation of Thai Industries
Stay updated on the top trending topics from the tourism scene - from Smart tourism, Chiang Mai as a MICE city, creative tourism, community-based tourism, and conservation/green tourism
Win a chance to pitch your business at the event!
Event details

Date: Thursday 3rd May
Time: 5 - 9.30 pm (registration from 4.30 pm)
Venue: ART Mai? Gallery Hotel, Nimmanhemin Soi 3 (map)

Price:
550 baht - for BCCT members
700 baht - for non-members
800 baht - for ALL walk-ins
*Prices are inclusive of sumptuous food and drinks
Agenda:
4.30 Registration
5.00 Tourism talk starts
"Creative life - how art and tourism go hand-in-hand" by Artist Chalit Nakpawan
"Thailand as a MICE destination" by David Barrett
"Social entreprises & conservation tourism" by Jeanette Woelinga, Elephant Parade
"Digital Tourism Trends in Chiang Mai" by Parichat Haehnen, Booking.com
"Responsible tourism via transformational journeys" by Lauren Groves, GROUND
Surprise talk by Thanachai Ujjin (Pod Moderndog), Independent Artist
7.00 Opening by hosts
7.15 Business connecting games
7.45 Networking cocktail
8.30 Lucky draw
9.30 Event ends
Booking and more information: Direct to NTCC here