Details: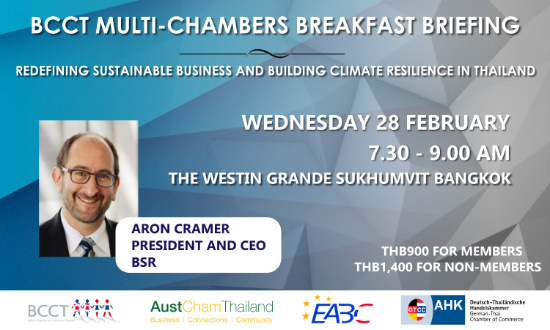 BCCT, in collaboration with AustCham, EABC and GTCC, cordially invites you to BCCT Multi-Chambers Breakfast Briefing on Redefining Sustainable Business and Building Climate Resilience in Thailand on Wednesday 28 February at The Westin Grande Sukhumvit Bangkok.
leading threats to our global economy, according to the 2018 World Economic Forum, are extreme weather events, natural disasters, and the failure to mitigate and adapt to climate change. In Thailand, the 2011 floods cost over 1.4 trillion baht (45 billion USD) in damages and affected 240,000 small businesses. Economic losses from the 2015-2016 drought amounted to nearly 106.6 billion baht (3.4 billion USD). And experts are estimating larger than average amounts of precipitation in Thailand this year.
The role of business in addressing climate change has never been more important than it is today. Companies are becoming increasingly aware of such issues, but it requires more than hardening infrastructure to combat the extreme weather. Navigating the realities of climate change requires a new approach to business leadership.
Aron Cramer will speak to redefining sustainable business in a world of rapid change. Corporate leadership will require re-imagining business strategies, starting with redefining governance structures to catalyzing systemic progress and strengthening the relationship between commercial success and resilient communities.
Event detail:
Date: Wednesday 28th February
Time: 7.30 - 9.00 am
Venue: Botan Room, 8th fl., The Westin Grande Sukhumvit Bangkok (nearest BTS station: Asoke exit 5, MRT station: Sukhumvit exit 3) map

Speaker: Aron Cramer, President and CEO of BSR

Topic: Redefining Sustainable Business and Building Climate Resilience in Thailand
Cost:
-THB 900 for members of BCCT/AustCham/EABC/GTCC. E-Vouchers are accepted but only indicated at the time of booking.
- THB1,400 for non-members.
This price is inclusive of breakfast.
Pre-payment: here by Friday 23rd February 2018
---
About speaker
Aron Cramer
President and CEO of the global nonprofit business network and consultancy, BSR
Aron is recognized globally as a preeminent authority on sustainable business. In addition to leading BSR as President and CEO, Aron advises senior executives on the full spectrum of social and environmental issues. Aron speaks frequently at leading business forums and is widely quoted in top-tier media such as the Financial Times, Le Figaro (France), The New York Times, and the Wall Street Journal. He is a co-author of the book Sustainable Excellence: The Future of Business in a Fast-Changing World, which spotlights innovative sustainability strategies that drive business success.
BSR works with its network of 250+ member companies and partners to build a just and sustainable world. Member companies include ANZ Banking Group Limited; Cisco; Komatsu; Li & Fung Limited; Microsoft; NIKE, Inc; Royal Dutch Shell; Telenor; and Unilever.
BSR is a founding partner of We Mean Business, a global nonprofit coalition working with the world's most influential businesses to take action on climate change. The coalition catalyzes business leadership to drive policy ambition and accelerate the transition to a low-carbon economy. Representing the business constituency on behalf of BSR, Aron Cramer is sitting on the advisory group for the Global Climate Action Summit to be held in California in September 2018.