Details: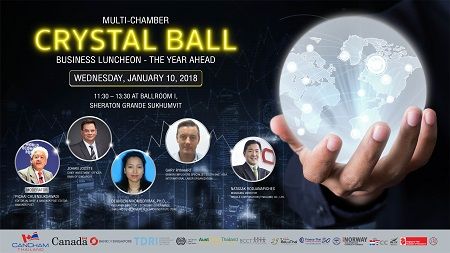 CanCham Thailand in collaboration with the Embassy of Canada, Bank of Singapore, Thailand Development Research Institute (TDRI), International Labour Organization (ILO) and the following foreign chambers of commerce: Australia, Belgium-Luxembourg, Britain, France, Hong Kong, Malaysia, the Netherlands, New Zealand, Norway and Singapore, proudly present MULTI-CHAMBER CRYSTAL BALL BUSINESS LUNCHEON – THE YEAR AHEAD on January 10 at Sheraton Grande Sukhumvit.

This CanCham flagship event promises to be a lively, interactive discussion during which business leaders will provide their perspective and outlook on the financial, political, communications and work/employment landscape for the year ahead. The key trends in various sectors of industry will be highlighted.

The event will provide ample opportunity for participants to share insights and ideas amongst peers in the business sector. The panel discussion will be followed by Q&A.
EVENT DETAILS
Date: Wednesday, January 10, 2018
Time: 11:30 - 13:30
Venue: Ballroom I, Sheraton Grande Sukhumvit
Dress Code: Business attire or smart casual
Entry Fee: THB 1,200 for members and participating chambers/organizations or THB 1,500 for non-members
Booking & Payment: direct to Cancham. Please CLICK HERE
DISCUSSION
We will be discussing the major trends and forecasts for 2018 in the following areas:
World Economy and Financial markets
Political Landscape – Economic policy, outcomes of major Thai government policies such as EEC
Communications – Emergency & transformation of social commerce in SE Asia
Future of Labour – including AI, opportunities & threats
PANELISTS
Pichai Chuensuksawadi (moderator), Editor-in-Chief & Bangkok Post Editor, Bangkok Post
Johan Jooste, Chief Investment Officer, Bank of Singapore
Deunden Nikomborirak, Ph.D., Research Director – Economic Governance, Thailand Development Research Institute (TDRI)
Gary Rynhart, Senior Employers Specialist South East Asia, International Labour Organization (ILO)
Natasak Rodjanapiches, Managing Director, Oracle Corporation (Thailand) Co., Ltd.
Panelist profiles: CLICK HERE
PROGRAM
11:30 - Registration & Networking
12:00 - Lunch is served
12:05 - Opening Remark by John Stevens, President of CanCham Thailand and
Introduction to Khun Pichai, Moderator
12:20 - Panel Discussion begins – Khun Pichai sets stage for the discussions
1. Johan Jooste
2. Deunden Nikomborirak, Ph.D.
3. Gary Rynhart
4. Natasak Rodjanapiches
13:15 - Questions and Answers
13:30 - Forum concluded