Details: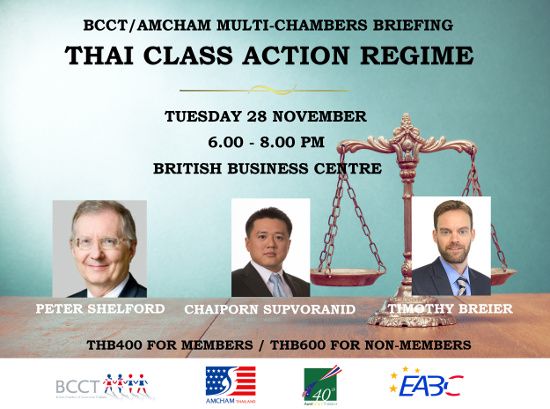 A panel of Thai, UK and US lawyers will lead a stimulating discussion on the evolving Thai class action regime. Our panel will provide a primer on the relevant legislation, examine risks to business operators in Thailand, offer unique insight into existing Thai class action lawsuits, and take a comparative look at some noteworthy facets of class action practice, including discovery, lawyer fees and key components of class certification criteria.
Types of cases likely to be filed as class action lawsuits include: labor cases, breach of contract & warranties, product liability, environmental litigation and consumer protection. Consequently, this seminar will be of interest to anyone conducting business in Thailand and individual lawyers specializing in any area of Thai commercial law. There will also be the opportunity to network with fellow attendees after the panel discussion
Date: Tuesday 28th November 2017
Time: 6.00 - 8.00 pm
Venue: British Business Centre, BCCT Office, 7th Floor, 208 Wireless Road (nearest BTS station: BTS Ploenchit exit 5) map
Topic: Keeping Up with the Emerging Thai Class Action Regime
Guest speakers:
Peter Shelford, Country Managing Partner, DLA Piper Thailand. Co-Chair Insurance Sector, EMEA and Asia Pacific (profile)
Chaiporn Supvoranid, Partner, Baker & McKenzie (profile)
Timothy Breier, Partner, Baker & McKenzie (profile)
Moderator: Douglas Mancill, Senior Counsel, Price Sanond
Cost: THB 400 per person for BCCT members and participated chambers & THB 600 for non-members including finger food, soft drinks, beer and wine. Payment at the door. BCCT vouchers are accepted.

Cancellation policy: Reservations not cancelled within 2 business days of the event will be charged and invoiced as will no-shows.