Details: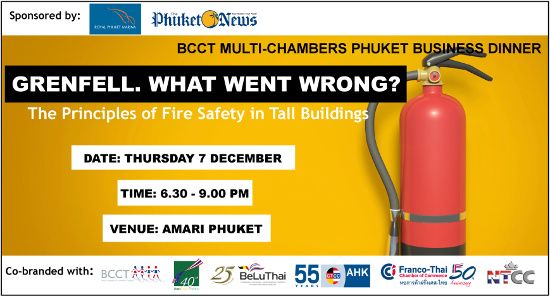 BCCT, in collaboration with AustCham, Beluthai, German, French and The Netherlands-Thai Chambers of Commerce, invites you to attend Phuket Business Dinner on Thursday 7 December at Amari Phuket.
In Thailand the enforcement of Fire Life Safety regulations are not a strict as in many western counties. We often read about serious fires which could easily have been avoided.
Do you have a professional who understand the principles of Detection, Protection (both passive and active) and Means of Egress? Are you confident your property is safe?
During this 1 hour session we will review the key principles of detection, protection, containment and egress of fires in all buildings, using the tragic fire in Grenfell Tower London as an example. Participants can expect to understand these key principles of fire safety in buildings and what they can do to minimize the risks in their own properties.
This briefing will be led by Geoffrey Fordham, a Certified Fire Protection Specialist with the NFPA and currently employed by ONYX Hospitality Group as Senior Vice President of Engineering, Safety & Security. Previous to this he held senior engineering and fire safety positions for Shangri-La in Bangkok and Jumeirah in Dubai.
Date: Thursday 7 December 2017
Time: 6.30 - 9.00 pm
Venue: Amari Phuket
Topic: Fire Safety in Thailand - Understanding the Key Principles to Protecting Your Property From The Affects Of Fire.
Speaker: Geoffrey Fordham, Senior Vice President, Engineering, Safety & Security Onyx Hospitality
Cost & Payment: THB 890 including inter-buffet & soft drinks. Wine at THB 100 net per glass. Happy Hour from 5-9pm 50% off all drinks including beer THB 70 net per glass. Food & beverages are on guest's own account. Payment at the door direct to hotel.
---
Special thanks to our sponsors:
Royal Phuket Marina is a premier lifestyle destination combining Phuket's most exclusive residences, state-of-the-art marina, fine dining, exhibition hall, health club and commercial rentals. Asia's most sophisticated high-tech yachting haven, Royal Phuket Marina is the proud holder of several international awards, including the prestigious 5 Gold Anchor Award bestowed by the British Yacht Harbour Association. Royal Phuket Marina is a playground in itself and its gorgeous setting makes simply strolling along the boardwalk a pleasure!