Details: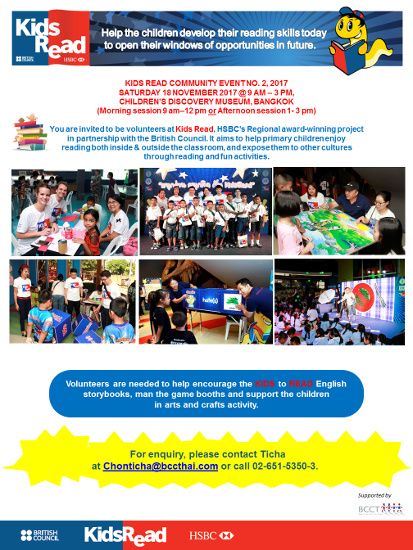 BCCT members are invited to be volunteers at Kids Read, HSBC's Regional award-winning project in partnership with the British Council. It aims to help primary children enjoy reading both inside and outside the classroom and expose them to other cultures through reading and fun activities.
Event detail:
Date: Saturday 18 November 2017
Time: Two sessions (9 am - 12 pm and 1 pm - 3 pm). You can choose to join only one session or stay for the whole day.
Venue: Bangkok Children's Discovery Museum (10 minutes walk from Chatuchak Park MRT Station) map
Activities: Volunteers will help the students to read English storybooks, man the game booths and support the children in arts and crafts activity.
Cost: Free for BCCT volunteers. Lunch and refreshment are provided.
Transport: A return transport (leaving BCCT Office at 8am, leaving the Museum at 3pm) is available upon request. Parking at the museum is also available on a first-come, first-serve basis at no additional cost (please notify BCCT staff when booked).
Booking deadline: 3 pm of Tuesday 14 November 2017
Enquiry: please e-mail Ticha at chonticha@bccthai.com or call 02-651-5350-3.