Details: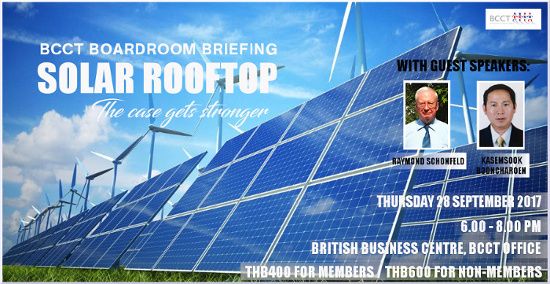 **Revised topic and speaker**
**BCCT cordially invites you to BCCT Boardroom Briefing: Solar Rooftop - the Case Gets Stronger on Thursday 28 September 2017.**
Event detail:
Date: Thursday 28 September 2017
Time: 6.00 - 8.00 pm
Venue: British Business Centre, BCCT Office, 7th Floor, 208 Wireless Road (nearest BTS station: BTS Ploenchit exit 5)
Topic: Solar Rooftop: the case gets stronger
Guest speakers:
Raymond Schonfeld, Managing Director, Single Market Ventures, Brussels, and A10 Solar Co. Ltd.,
Kasemsook Booncharoen, Strategic Property Project Leader, Tesco Lotus
Cost: THB 400 net for members and THB 600 for non-members including food, soft drinks, beers and wines. Cash payment at the door. BCCT vouchers are accepted.
---
Event Overview:
This workshop will offer the latest data on costs, incentives and the economic case for investment by companies in Thailand. For solar, the focus will be on solar rooftops. It is the latest in what has become a regular BCCT series in this area.
Tesco Lotus completed its first solar rooftop investment on some of its stores in Thailand in 2016, and will explain how it took the investment decision, how the project was managed and what lessons it has drawn for further expansion of its use of solar.
The focus of the evening will be strongly practical – no long discussion of policy debates about climate change or possible government policies, but the latest hard data which organisations can use.
About the speakers:
Raymond Schonfeld, Managing Director, Single Market Ventures, Brussels, and also of A10 Solar Co. Ltd., a new Thai company offering innovative services for PV rooftops in ASEAN; he has been honourary international advisor to the Thai Photovoltaic Industries Association (TPVA) since its creation in 2012.
Kasemsook Booncharoen is Strategic Property Project Leader in the Property Department of Tesco Lotus, and led Tesco's successful superstore solar rooftop investment programme in 2016, from project definition to start-up. He has worked for Tesco Lotus in Thailand since October 2007 in several roles including Head of New store and Distribution responsible for all new stores/format and DC's construction, and Head of Facility Management and Energy.