Details: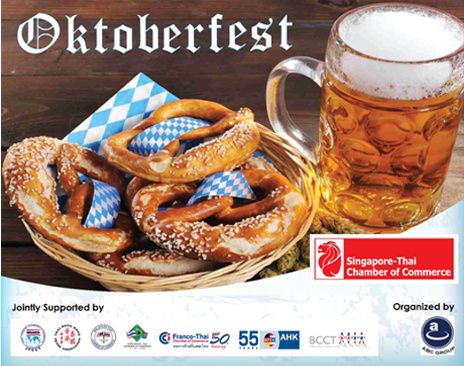 Oktoberfest in Pattaya
Saturday 18 November 2017
6.00 p.m. onward at Amari Pattaya
12,840 THB / table (10 person)
1,400 THB / person
As in the years before we will have again our very own OKTOBERFEST in Pattaya and we would like to invite you to be part of this great event.
Join and enjoy the atmosphere of an event called THE OKTOBERFEST which originated more than 200 years ago in Munich, considered to be the biggest Beer festival on earth! A great event at the amazing outdoor facilities of the Amari Pattaya!
Take the opportunity not only to have a good time but to bring your company or business closer to the foreign and Thai community.
The ticket includes: Buffet, Entertainment with live music, games. A pint (half liter) of original Paulaner Oktoberfest Beer and a complimentary Beer Mug.
Take a Beer Mug Logo! Only 10,700 Baht for your logo on 500 Beer Mugs and Banners!
We are producing 500 glass beer mugs where companies can have their logo on.
Your logo will stay forever as the mugs are already a collector's item.
Your logo will also be on the banners!
Take a Banner Logo!
Only 2,675 Baht
We are producing banners with your logo on it, which are displayed in and around the Amari hotel and the venue. This is a very reasonable way to promote your business.
Please remember space for logos on both Beer Mugs and Banners is limited and will be on a first come first serve basis.
Don't miss this event! Please contact Khun Noo or Khun Bee Tel: 02-264 0680-4 E-mail: marketing@singaporethaicc.or.th