Details: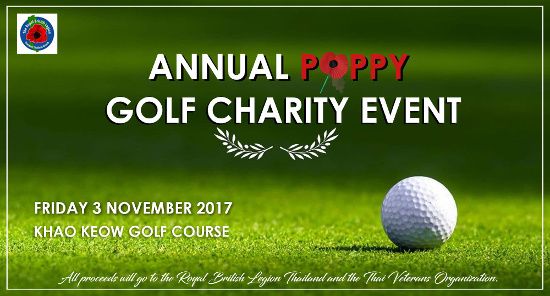 *FROM THE ROYAL BRITISH LEGION*
The Royal British Legion in conjunction with BCCT will be hosting their annual Poppy Golf charity event on the 3rd November at Khao Keow Golf Course with the awards dinner to follow on the 4th November at the Holiday Inn Pattaya.
We are seeking Corporate Hole Sponsors for this very worthy charity together with Raffle Prizes to be awarded during the dinner. Hole sponsorship costs THB 10,000 and will allow sponsors to place banner advertising and other marketing material around their selected Green. Sponsors may also provide the players with refreshments and chat briefly if they wish. Sponsors will also receive a mention in BCCT and RBL emails, Link magazine and all media relating to the event both before and after.
All raffle donations will be warmly received including flights, hotel nights, spa treatments and food & beverage prizes, together with any corporate promotional gifts. These will also be publicly acknowledged and receive a special mention. All prizes will be raffled and all proceeds will go to the Royal British Legion Thailand and the Thai Veterans Organization.
About The Royal British Legion
Founded in 1921, we provide financial, social and emotional care and support to all members of the British Armed Forces - past and present and their families. The Legion is also the national Custodian of Remembrance and safeguards the Military Covenant between the nation and its Armed Forces and is best known for the annual Poppy Appeal and its emblem the red poppy.
Legion membership ensures that
Remembrance is kept alive and that the sacrifices our brave Service men and women have made are never forgotten


The ex-Service community have a voice and that their concerns are brought to the public eye.
For further details please click HERE
Please contact Mark Bowling on 085 2828 120 or email mwbowling1970@gmail.com if you are able to assist.