Details: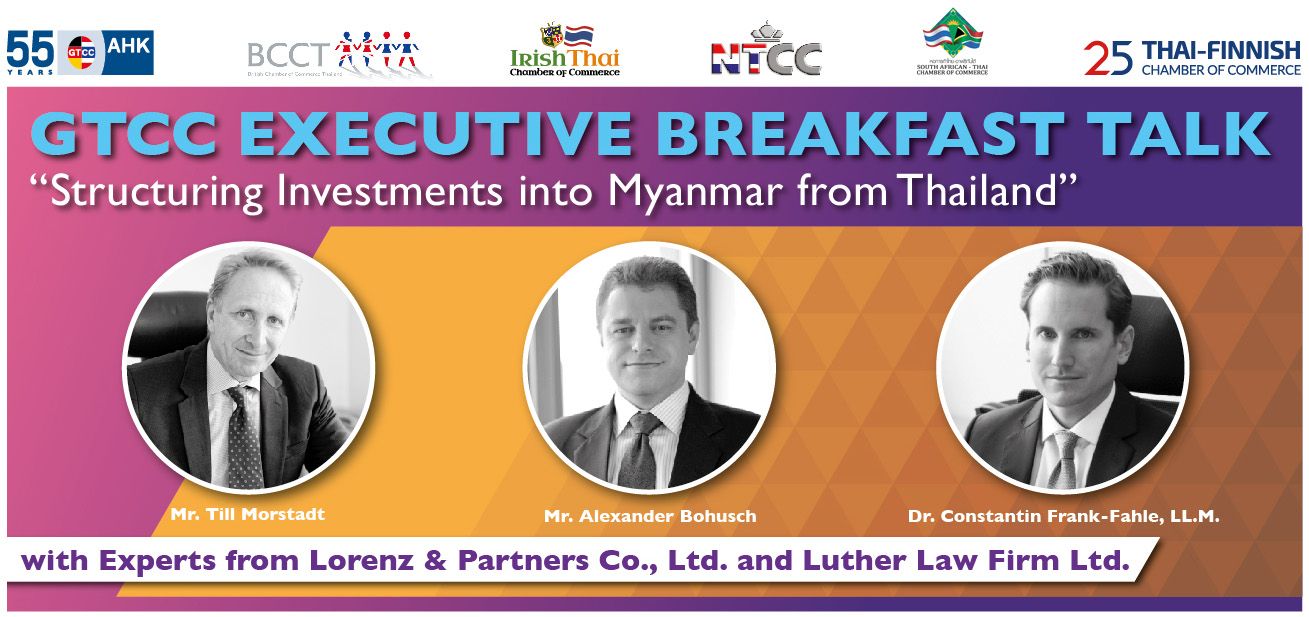 **BCCT members are invited to join GTCC Executive Breakfast Talk on 22 November 2017 organized by GTCC.**
Meet the business consultants from L&P and Luther to discuss the key tax and legal implications of structuring investments into Myanmar from Thailand.
This seminar is particularly interesting for investors who are seeking information on:
Luther
Investment law framework in Myanmar
Taxation in Myanmar
Employment of foreigners
FX-restrictions
Investor concerns
L&P
International Headquarters Promotion (IHQ) for investments in Myanmar
Tax framework and optimisation
Transfer pricing issues
Event detail:
Date: Wednesday, 22 November 2017
Time: 8.30 - 11.15 am
Venue: Gallery 1 (36th Fl.), Pullman Bangkok Hotel G (map)
Topic: "Structuring Investments into Myanmar from Thailand"
Speakers:
Cost: THB1,000 for BCCT members and non-members. This price includes breakfast.
Booking and payment: direct to GTCC here
Cancellation: In case you cannot attend the event, please make your cancellation with GTCC at 02-055-0622 or e-mail: communications@gtcc.org BEFORE 21 November 2017. Otherwise, you will receive the invoice.