Details: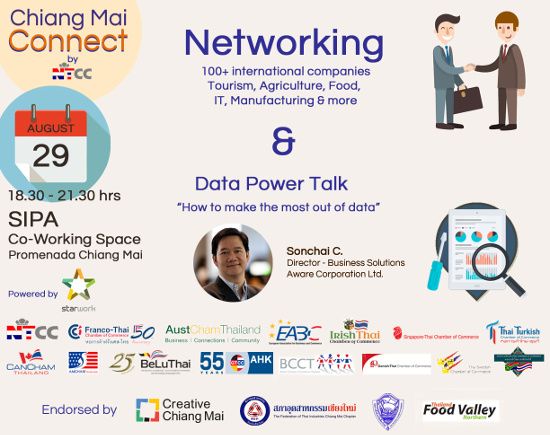 *BCCT members are invited to attend the joint Chiang Mai Networking organised by NTCC*
Event details
Date: Tuesday 29 August
Time: 18.30 - 21.30 hrs
Location: SIPA Co-Working Space, G Floor, Building B, Promenada Chiang Mai (map)
Cost: 600 baht - members and 800 baht - non-members. SPECIAL 50% discount if you bring a friend who hasn't been to one of our events before!
*Prices are inclusive of sumptuous food and drinks, exclusive of small online booking fee
Booking: direct to NTCC HERE
Speaker's Profile: HERE

After a successful launch in May, we are back again with the largest networking event in Chiang Mai. Meet 100+ professionals from wide-ranging industries across the North - Tourism, IT, Agriculture, Food, Manufacturing, Sustainability, and more! Sit back, take time with our signature networking 'games', free flow of food and drinks, fruitful presentations, and enjoy a great evening out with the international crowd!

We are proud to present also the first Data Power Talk under the topic 'How to make the most out of data' by a distinguished guest speaker from Aware Technology, Chiang Mai-based international IT company. Khun Sonchai, Director – Business Solutions will be giving you to-the-point takeaway tips on how you can make DATA a weapon for your businesses, big and small! Read more about our speaker and the topic down below.

What you missed last time, click on the photo to see more!
Introducing the Data Power Talk Topic: How to make the most out of data?

Data, data, data is what we always here these days. Big Data, Business Intelligence, Data Analytics – big words. You see them almost everywhere. But how do we; Startups, SMEs, and corporates alike, actually make use of it? What to do when you have your customers fill in hundreds of surveys every day – you know where they live, what time of day they shop, but how to make sense of all this without wasting too much time? Find out how data can be used to gear up your businesses with practical examples around the globe.

About the speaker:
Sonchai Chartbunchachai, Director - Business Solutions, Aware Corporation
Khun Sonchai is the Director of Business Solutions at Aware, a Chiang-Mai-based leading tech company with an international footprint supporting clients (B2B) all around the world. With 15+ years experience both in technology and business, he has been helping clients (SMEs to corporates) in Thailand and abroad for their efficiency improvements through IT. He loves 'bridging' the gaps. He believes that technology doesn't need to be hard or complicated – rather it should make everyone's life simpler and more effective. Khun Sonchai is an alumna of Chiang Mai University (B.E. Electrical Engineering) and holds a Master in Telecommunications from University College London (UCL), University of London.