Details: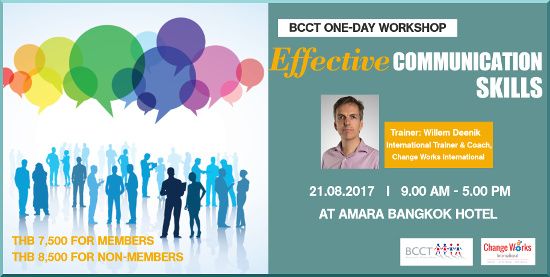 **This event is postponed and will be rescheduled in the future.**
Event detail:
Date: Monday 21 August 2017
Time: 9.00 am – 5.00 pm (registration at 8.45 am)
Venue: Amara Bangkok Hotel, 180/1 Surawong Road (nearest MRT station: Sam Yan exit 1) map
Topic: Effective Communication Skills
Facilitator: Willem Deenik, International Trainer & Coach, Change Works International
Language: This workshop is conducted in English.
Cost: THB 7,500 net per person for BCCT members & THB 8,500 net per person for non-members. This fee is inclusive of VAT, course materials, buffet lunch and 2 coffee breaks.
Payment: Pre-payment for the full fee is required by 5.00 pm of 14 August. The fee for this training session provided by the BCCT qualifies for a 200% corporate income tax deduction for the member company. BCCT vouchers are accepted.
Payment Methods: here
Cancellation policy: BCCT is not able to refund for any cancellations after 5.00 pm on Thursday 17 August.
---
Course overview
This comprehensive one day programme has been developed specifically to teach participants the interpersonal skills that lead to more effective, more satisfying, more rewarding relationships. In this workshop participants will learn the fundamental skills to becoming highly effective communicators. This workshop is delivered in a highly interactive and engaging and includes activities, case studies, practice and feedback sessions.
Key objectives
Develop a mindset for effective communication
Learn how people create their own perceptions and understanding of the world
Understand and utilise different communication styles accordingly
Apply Emotional Intelligence
Develop active, empathetic and reflective listening skills
Know how to ask the right questions
Be able to communicate ideas and feelings to others appropriately
Perform assertive communication effectively
Deal with difficult conversations
Read and interpret body language and gestures while communicating with others
Agenda: HERE
Facilitator: Profile