Details: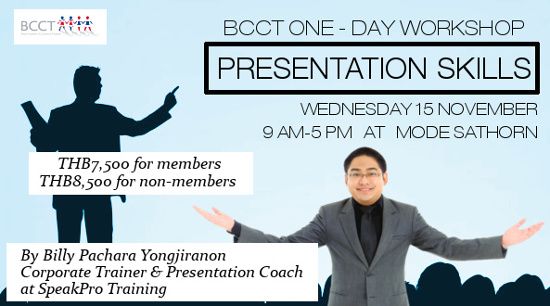 **BCCT cordially invites you to BCCT One-Day Workshop on Presentation Skills on Wednesday 15th November at Mode Sathorn Hotel Bangkok.**
Date: Wednesday 15 November
Time: 9.00 am – 5.30 pm (registration at 8.45 am)
Venue: Mode Sathorn Hotel Bangkok (nearest BTS station: Surasak) (map)
Topic: Presentation Skills

Training Provider: Pachara Yongjiranon (Billy), Corporate Trainer & Presentation Coach at SpeakPro Training
Language: This workshop is conducted in English.
Cost: THB 7,500 net per person for BCCT members & THB 8,500 net per person for non-members. This fee is inclusive of VAT, course materials, buffet lunch and coffee break.
Payment: Pre-payment for the full fee is required by 5.00 pm of Friday 10 November. The fee for this training session provided by the BCCT qualifies for a 200% corporate income tax deduction for the member company. *BCCT vouchers are accepted*
Payment Methods: here
Cancellation policy: BCCT is not able to refund for any cancellations after 5.00 pm on Friday 10 November.
---
Overview:
For most people, the idea of standing in front of a group of people to speak can be a terrifying thought. To most, it can be the most difficult part of their jobs.
This 1-day course will guide participants through a journey of communication and techniques that will enhance their presentation skills. They will know the major differences between verbal and non-verbal communication that involves eye contact, gesturing, voice exercises, etc. They will know how to take their audience on a journey of knowing the art of signposting and the basic presentation structure used in business.
Key Objectives:
Becoming a Confident Communicator
Develop Professional Presentation Skills
Develop Personality and Quality in Presenting
Understand Effective Presentation Structures
Agenda:
Step 1: Self-Analysis – VDO Recording
Step 2: What are informative presentations?
Step 3: Effective Introductions
Step 4: Impactful Bodies
Step 5: Memorable Conclusions
Step 6: Mastering Persuasion
Step 6: Communication
Confidence
Emotions
Verbal vs. Non-Verbal
Step 7: Full Presentation
Rehearsal
Final Presentation
Facilitator: Detailed profile and information of Billy can be found here