Details: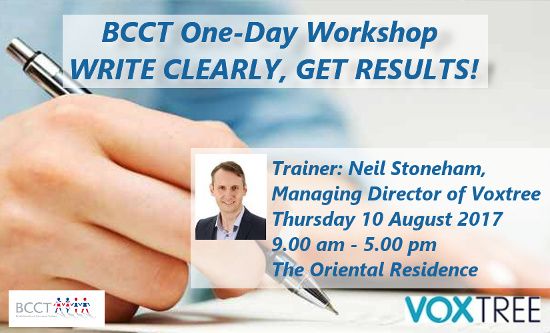 On this practical one-day workshop, you will learn how to get to the point in your business writing, and convey key messages in a clear and inspiring way. Write Clearly, Get Results!
Event detail:
Date: Thursday 10 August 2017
Time: 9.00 am - 5.00 pm (registration at 8.30 am)
Venue: The Oriental Residence, Oriental Suite, 2nd Floor, 110 Wireless Road (Ploenchit BTS station exit 5) map
Topic: Structuring your writing effectively; cutting out the excess; the art of clarity; how to avoid business clichés and be creative.
*Suitable for any business professional with a good or native level of English, this practical workshop includes individual feedback from the facilitator.
Trainer: Neil Stoneham, Managing Director of Voxtree
Language: This workshop is conducted in English.
Cost: THB 4,500 net for members and THB 5,500 for non-members. This fee is inclusive of VAT, course materials, buffet lunch and coffee break.

Payment: Pre-payment for the full fee is required by 5.00 pm of Friday 4 August. The fee for this training session provided by the BCCT qualifies for a 200% corporate income tax deduction for the member company. *BCCT vouchers are accepted*

Payment methods: here
Cancellation policy: BCCT is not able to refund for any cancellations after 5.00 pm on Monday 7 August.
---
Overview:
Clear, persuasive writing is crucial to doing good business. Yet many people struggle to write well because they write too much or confuse the reader with poor structure. This inevitably makes business more complicated, slower and can even result in lost revenue.
Ultimately, learning how to write in a focused and engaging manner improves business prospects considerably, leading to better client engagement and increased sales.
This workshop will help you:
Structure your writing to engage clients and persuade them to take action
Learn ways to sharpen up your writing, so that it makes perfect sense
Gain the confidence to write better and write faster
About Speaker:
Neil Stoneham is the managing director of Voxtree – a global communications consultancy with clients in many countries, including Thailand. Throughout his varied career, Neil has delivered writing workshops to a number of high-profile organisations such as British Chamber of Commerce, RBS, Hard Rock and the British Embassy. He has also written for major brands as well as publications such as The Bangkok Post and The Weekly Telegraph.