Details: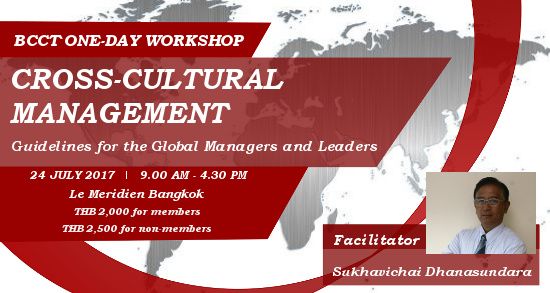 **This event is kindly sponsored by Mr. Sukhavichai Dhanasundara, Honorary Advisor to the Board of BCCT as well as Chairman of the Management Development Group.**
Globalization has created vast opportunities for international business expansions through trade, manufacturing and services. As new markets are opened, especially in Asia, many corporations have to think international instead of domestic. Just as the internet has totally re-created the concept, structure and functions of information technology and communications, so also did globalization change the nature, structure, modus operandi and approach to international business. Most importantly, globalization has given rise to a new "breed" of organizational global managers and leaders whose skills and competencies go beyond the traditional requirements of functional knowledge to include being able to interact with multi-cultural environments.
The global leader has to know and understand the importance of cultural differences and how they play a vital role in achieving a smooth operation on foreign lands. Business operations are run and operated by people. People are subject to cultural influences, behaviors and values. So to manage these people, one has to know how to manage them across cultural borders. This is Cross-cultural Management
Date: Monday 24 July 2017
Time: 9.00 am - 4.30 pm (registration at 08.30 am)
Venue: Le Méridien Bangkok, 40/5 Surawong Road, Silom (nearest MRT station: Sam Yan) map
Topic: Cross-cultural Management – guidelines for the Global Manager and Leader
**Highly recommended for international business leaders, international human resources professionals, and organizational change management coaches.**
Facilitator: Sukhavichai Dhanasundara, Visiting Professor, Institute of Business and Regional Economics, Lucerne University of Applied Sciences and Arts.
Language: This workshop is conducted in English.
Cost: THB2,000 for members / THB2,500 for non-members. This fee is inclusive of VAT, course materials, buffet lunch and coffee break.
Payment: Pre-payment for the full fee is required by 5.00 pm of Wednesday 19 July 2017. The fee for this training session provided by the BCCT qualifies for a 200% corporate income tax deduction for the member company.
Payment Methods: here
Cancellation policy: BCCT is not able to refund for any cancellations after 5.00 pm of Wednesday 19 July 2017.
Overview:
This workshop will explore:
The challenges of globalization under the umbrella of cultural diversity.
The main cultural dimensions which influences social values and business behavior.
The various styles of management and leadership to direct and motivate employees' performances.
Peer learning through exchange of experiences, both good and bad.