Details: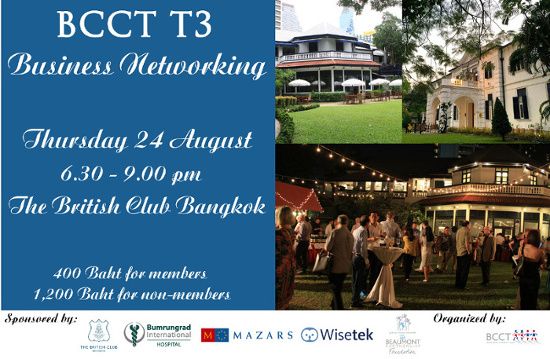 Come join us for our next BCCT T3 Business Networking at The British Club Bangkok. Bring your colleagues along to enjoy great food and drinks. Great opportunity to meet and network in a classic clubhouse building in the heart of Bangkok!
Date: Thursday 24 August 2017
Time: 6.30 - 9.00 pm (last drink 8:30pm)
Venue: The British Club Bangkok, Silom Soi 18 map

Cost: THB 400 for members and THB 1,200 for non-members including food, soft drinks, beer and wine. Payment at the door. BCCT voucher is accepted. NO NON-MEMBER WALKS-IN.
**Parking is not available at the Club. Nearest car park is at Narai Hotel (with charges applied).**
---
At BCCT events all participants can freely and openly share ideas in a friendly, safe, and welcoming environment that encourages and inspires mutual respect and collaboration. Attendees, speakers, sponsors and others should treat all other attendees with dignity and respect. Misunderstandings sometimes do occur, and people should work things out between themselves in a courteous and respectful manner whenever possible. Otherwise, seek the advice of a member of the BCCT staff or board of directors, or a mutually trusted third party. Harassment of attendees is not tolerated in any form. If you feel threatened or violated as a result of intimidating, harassing, abusive, discriminatory, derogatory or demeaning conduct, please immediately notify a member of the BCCT staff or board of directors.
---
Special thanks to our generous sponsors:
THE BRITISH CLUB BANGKOK
We were founded in 1903 as a British businessmen's Club but have developed over the past century to the social, sports & cultural centre for the English-speaking community in Bangkok. Our present Clubhouse was opened in 1910 and we received our Clubhouse land as a gift from H.M. The King of Siam in 1914. Our membership is predominantly British, Australia, Canadian and New Zealander – these nationalities have had full voting right since our inception. In all we have around 1,100 memberships.
Often called 'an oasis in the heart of Bangkok' we have a compact range of sports and dining facilities on 1.4 Hectare site –with a British Pub, three restaurants, a private dining room, a Sports Bar and a cocktail bar with onsite tennis courts, squash courts, a fitness centre, cricket nets, swimming pool and a multi-purpose sports court – we also have a children's pool and playground. In addition to the Club's facilities membership entitles you to use of around 355 Reciprocal Clubs in 54 countries around the world.
BUMRUNGRAD INTERNATIONAL HOSPITAL
Found in 1980, Bumrungrad International Hospital is one of the largest private hospitals in Southeast Asia, and one of the most internationally-acclaimed hospitals in the region. Bumrungrad is Asia's first hospital to be accredited by the US-based Joint Commission International (JCI) in 2002, and re-accredited at each period ever since. The laboratory holds a certification from the College of American Pathologists (CAP), also a first for Asia, certifying that its standards of disease pathology is at the same level as leading providers in the USA. Bumrungrad is committed to world-class care, utilizing advanced medical technology along with integrity and compassion.

MAZARS
Mazars in Thailand is a leading audit, accounting, legal, tax and advisory practice, combining the benefits of an integrated global partnership with the entrepreneurial drive of the senior advisors.
Mazars currently employs over 200 professional staff in Bangkok, providing professional support to international and local clients.
A key feature of the practice is the multinational composition of its advisors, with Thai, British, French, Dutch, Japanese and Australian nationals among its senior advisors.
The Mazars global partnership has a direct presence in 79 countries and draws on the expertise of more than 18,000 professionals to assist clients from across a range of industries and sizes, from major international groups and SMEs to entrepreneurs.

WISETEK SOLUTIONS (THAILAND) LTD
Wisetek is E-waste management company :eliminate e-waste that all processed to highest security and environmental standards.
The Wisetek Sustainable EARTH Certification Program provides an assurance that all material that Wisetek receive is processed to the very highest environmental regulatory standard. Wisetek was initially established to support a major IT hardware manufacturer in resolving the increasing demands of Global E-Waste Regulations and minimizing this large cost burden.
Wisetek Sustainable Earth Standard, which is externally certified to the R2 standard ( Responsible Recycling) with Zero Landfill
We commit to:
Zero Landfill Policy
Material is shredded and sorted by type
Compliance with all global environmental regulations
Independently Certified ISO9001, ISO14001 ,ISO18001 and the Responsible Recycling (R2) Standard.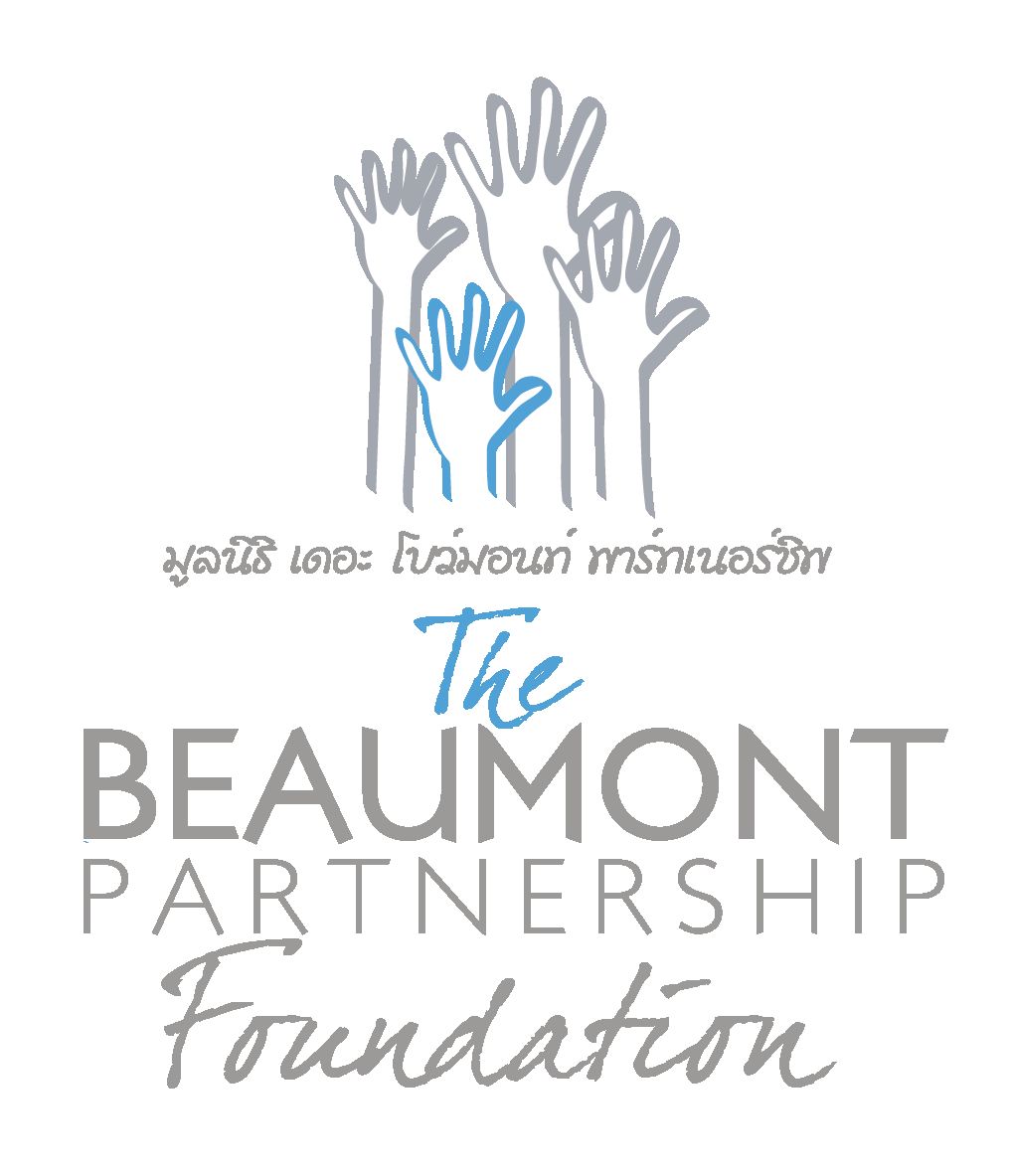 THE BEAUMONT PARTNERSHIP
OBJECTIVES
Our self-sustaining School will provide access to quality, contemporary education, utilising community values and involvement to enable all children to realize their potential and provide social and economic benefit to their families and Community.
To serve needy communities and provide education to ordinary rural children free of charge - the family contributes to the school by providing 15 hours of labour per semester
Provide education which enables the students to maximise their potential
QUICK FACTS
Name: The Beaumont Partnership Foundation Ruam Pattana School
Location: Chaiyaphum, Thailand
Number of students: 210
Program: Education for the underprivileged