Details: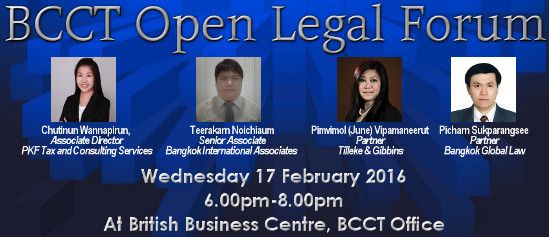 Date: Wednesday 17 January 2016

Time: 6.00 pm - 8.00 pm

Venue: British Business Centre, BCCT, 7th Floor, 208 Wireless Road (nearest BTS station: Ploenchit exit 5)

Topic: Legal Open Forum

Panel:
•Chutinun Wannapirun – Associate Director at PKF Tax and Consulting Services (Thailand) Ltd.
•Teerakarn Noichiaum - Senior Associate at Bangkok International Associates
•Pimvimol (June) Vipamaneerut - Partner at Tilleke & Gibbins
•Picharn Sukparangsee - Partner at Bangkok Global Law

Cost: THB 350 for members and THB 500 for non-members including finger food & drinks

Cancellation policy: Reservations not cancelled within 2 business days of the event will be charged and invoiced as will no-shows.

NO NON-MEMBER WALK-INS. Any non-members wishing to attend must book online.

Overview:
The event is intended to provide an opportunity for BCCT members to ask questions about business laws affecting their activities in Thailand, and foreign investors, in the following areas:
• Foreign Business Act licencing
• Board of Investment licencing
• Work permits and visas
• Hiring and dismissing employees
• General contracts
• Taxation for SME businesses

Our panel consists of four experienced practicing lawyers who are members of the BCCT Legal and Taxation Committee. Those attending the meeting will be able to raise questions about matters that affect their business operations in Thailand. Our panel of speakers have many years of experience advising foreign and Thai clients on problems affecting their business activities in Thailand.
As well as attending the meeting, attendees are invited to submit written questions in advance to Stephen Frost sfrost@bia,co.th, who will moderate the event, so that answers can be prepared in advance.

About the Panel:
Chutinun Wannapirun is an Associate Director in the Corporate Legal Department at PKF Tax and Consulting Services (Thailand) Ltd. (and previously at Baker Tilly) since 2006. She is a licensed lawyer from the Lawyers Council of Thailand and a member of Thai Bar Association. She has a Notarial Services Attorney License from the Lawyers Council of Thailand, a Bachelor Degree of Law from Thammasat University, and a Certificate of Business Taxation and International Taxation Training Courses from the Faculty of Law at Thammasat University. K. Chutinun began her career more than 10 years ago with BDO Richfield Co., Ltd. as a Corporate Legal Consultant. K. Chutinun focuses extensively on company establishment, Foreign Business License & BOI applications, and work permit and visa services.

Teerakarn Noichiaum is a Senior Associate at Bangkok International Associates where he has been since 2008. He specializes in contract drafting, banking and security, project finance, derivatives and taxation. He received his Bachelor of Law degree from Ramkhamhaeng University. He previously worked for the Tax Research Center and Baker Tilly Tax in Bangkok. He has written various articles on taxation in particular.

Pimvimol (June) Vipamaneerut is a partner in the Bangkok office of Tilleke & Gibbins, a leading Southeast Asian regional law firm. She advises clients on various aspects of labor and employment laws, with a focus on labor protection, employment agreements, labor unions, transfers of employment, due diligence in mergers and acquisitions, work rules and regulations, social security, and workmen's compensation.

For several years, June has been involved in drafting and revising numerous publications on Thai labor and employment law, including those for the World Bank, Lex Mundi, Multilaw, the American Bar Association, and the Centre for International Legal Studies, as well as business-focused articles that have run in such publications as Director Magazine and the Bangkok Post.
A leader in business and law, June is a frequent contributor to various seminars and committees, including those organized by the United Nations, the World Bank, the Joint Foreign Chambers of Commerce in Thailand, the Franco-Thai Chamber of Commerce, the Korean Trade-Investment Promotion Agency, the Danish-Thai Chamber of Commerce, and the Bangkok Shipowners and Agents Association. She is very active in the Inter-Pacific Bar Association, and is a past Vice-Chair and Membership Committee Chair.

Picharn Sukparangsee is a practitioner in securities law, company law and taxation law. Apart from his first law degree from Thammasat University, and admission to Thai Bar Association, he obtained an LLM from the University of Warwick and an LLM from King's College London University. He provides legal and tax advice to both Thai companies and multinational corporations doing business in Thailand. He contributes to Doing Business published by the World Bank, and the IFA and Business Investment Guide –Thailand, published by Sweet and Maxwell. In addition, he is an active member of the International Bar Association, the International Fiscal Association, and the Inter-Pacific Bar Association. He is an active member of the Legal and Taxation Committee of the British Chamber of Commerce of Thailand, and an advisor to the Thai- Canadian Chamber of Commerce.