BCCT BOARD OF DIRECTORS 2023


At last Thursday's Annual General Meeting (AGM) seven board directors were elected to serve two year terms for 2023 and 2024. A warm welcome to the three newcomers to the board and special thanks to those candidates who were unsuccessful this year.


Gareth Davies of DDX has been elected by the board to serve as Chair. Vice Chairs are Chris Cracknell of Grant Thornton Thailand (as immediate past Chair), Pinyapa Somphong of TWLS, and Martin Hurley of Lancaster Bangkok. The full BCCT Board for 2023 is as follows:-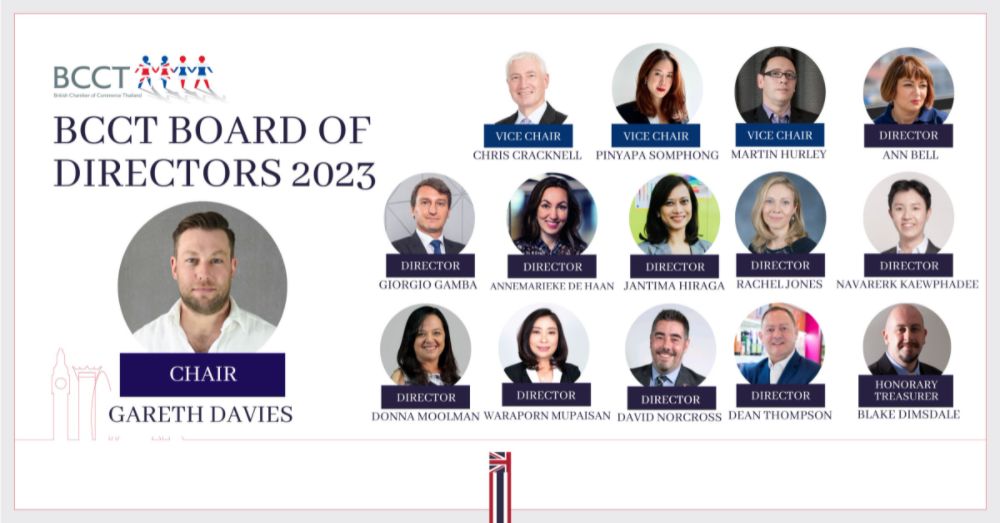 Chair

GARETH DAVIES - Partner at DDX
At 33 years of age, Gareth is BCCT's youngest ever Chair but also one of the most experienced having previously served on the BCCT board for four years from 2018 to 2021. He has a decade of experience in managing technical consulting firms, including eight years in Asia. Gareth has successfully directed numerous multi-year digital transformation and enterprise smart services projects for a roster of blue-chip clients, including Nikkei, BMW, and True, as well as recent, large-scale smart city projects. He currently Chairs BCCT's Digital Technology and Membership Working Groups.

Vice Chairs
CHRIS CRACKNELL - Chairman at Grant Thornton Thailand
As Chair Chris led BCCT through tough Covid years in 2021 and 2022 bringing a wealth of knowledge and experience to the chamber. He was re-elected to the board and serves as Vice Chair and Immediate Past Chair for 2023 and 2024. He previously worked for the OCS Group (known as PCS in Thailand) for 40 years, and as its Global CEO for 20 years, leading its international expansion.


PINYAPA SOMPHONG - Managing Partner at TWLS Company Limited

Pinyapa (Aime) also brings much knowledge and experience having served on the BCCT board for four years from 2019 to 2012, as Vice Chair in 2012. After graduating with a Master's Degree in International Trade and Commercial Law from Durham University she moved back to Thailand in 2015. Aime co-founded BCCT's Young Professionals Working Group and co-founded and Chairs the Advocacy Working Group.


MARTIN HURLEY - General Manager at Lancaster Bangkok
Martin continues into his fourth year on the board as Vice Chair and Chair of the Events and Travel & Tourism Working Groups. Prior to moving to Thailand in September 2016, Martin spent more than ten years working as a General Manager of several hotels in London. In 2018 he established the Bangkok Hotel General Managers' group, BCCT's largest membership segment.

Directors
ANN BELL - Managing Director at PCS Security and Facility Services Limited
GIORGIO GAMBA - Chief Executive Officer at The Hongkong and Shanghai Banking Corporation Limited (HSBC)
ANNEMARIEKE DE HAAN - General Manager Home Care Southeast Asia and Head of Country Thailand, Unilever Thai Trading Limited
JANTIMA HIRAGA - Country Manager - Thailand at Pearson Education Indochina Co.,Ltd
RACHEL JONES - Head of Admissions at Bangkok Patana School
NAVARERK KAEWPHADEE - Vice President – Global Corporate and Investment Banking at Bank of America, N.A.
DONNA MOOLMAN - Head of Finance SE Asia at Lucy Electric (Thailand) Limited
DAVID NORCROSS - CEO & Founder at Lexicon Business Communications
DEAN THOMPSON - Regional Managing Director (Asia) at Boots Retail (Thailand) Ltd
Honorary Treasurer
BLAKE DIMSDALE - Audit and Advisory Partner at Mazars (Thailand) Ltd.